Kelly Klepfer had ambitions to graduate from the school of life quite awhile ago, but alas . . . she still attends and is tested regularly. Her soon-to-be-released co-authored cozy/quirky mystery, Out of the Frying Pan, is the culmination of several of the failed/passed tests. Kelly, though she lives with her husband and two Beagles in Iowa, can be found at Novel Rocket, Novel Reviews, Scrambled Dregs, Instagram, Pinterest, Facebook and Twitter with flashes of brilliance (usually quotes), randomocities, and learned life lessons.


NOVEL REVIEWS CORNER
---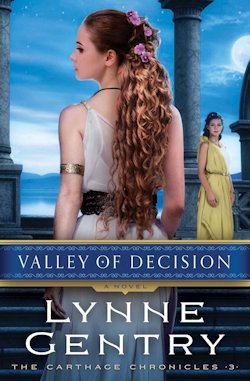 Valley of Decision
by Lynne Gentry
Publisher: Howard Books (September 22, 2015)
ISBN-10: 1476746419
Description
Every choice has a consequence in the explosive conclusion to the Carthage Chronicles as Lisbeth returns to third-century Carthage for a thrilling final adventure.
Thirteen years ago, Lisbeth made an impossible decision—leave third-century Carthage and her husband Cyprian behind for good. She knew it was to protect her daughter Maggie, so Lisbeth gathered the strength to move on with her life.
All these years, Lisbeth has thrown herself into her work and raising her headstrong daughter, all to live up to the promise she made to Cyprian. But Maggie is sick of being protected. In an act of teenage rebellion Maggie decides to do what her mother can't—secretly returning to the third century on a quest to bring her father back, leaving Lisbeth no choice but to follow.
With Maggie's surprise arrival in Carthage, chaos ensues. She finds her grandmother on trial for murder and attempts to save her, but instead the diversion sparks a riot that nearly destroys the plagued city. Only one thing will appease the wrath of the new proconsul of Carthage: the death of the instigator.
Will Lisbeth arrive in time to save her daughter from the clutches of Rome? How can God possibly redeem such a slew of unwise decisions and deep regrets? Filled with heart-wrenching twists and riveting action, Valley of Decision brings the romantic adventure epic, The Carthage Chronicles, to an electrifying conclusion.
Review:
Lisbeth has matured over the years between visits to ancient Carthage. So much so she's forgotten her own headstrong, hungry search for her missing mother. As much as she longs to give Maggie her father, Lisbeth knows it's for the best that Maggie remain in the present.
Taking a page from Lisbeth's book and tumbling right back into the third century Maggie discovers she's been gone mere hours their time and over a decade in hers. Maggie's hunt for her father, to save his life, results in struggles and challenges for all of those who love her. Maggie's cell phone and young adult social media mindset causes her a few mishaps. And Barek, the angry teenager she left behind wastes no time venting his frustration over his mother's death due to her carelessness.
Illness still rages through the city and Christianity is underground. Touching scenes between characters compelled me to finish the story out. Even though there was no possible way for happily ever after, I had to find out the choices the characters would make. Stay or go? Choose life in the modern world, or risk the pestilence, diseases and brutalities of the third century? In the end it was a satisfying and thoughtful read. I definitely recommend it for the fascinating historical glimpses and the strong writing.
Reviewed by: Kelly Klepfer at: Scrambled Dregs
---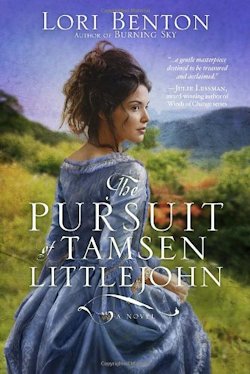 The Pursuit of Tamsen Littlejohn
by Lori Benton
Waterbrook Press 2014
978-0-307-73149-4
Description:

Western North Carolina, 1787 ~ To escape a threatening stepfather and an unwanted marriage, Tamsen Littlejohn enlists the aid of Jesse Bird, a frontiersman she barely knows, to spirit her away from Morganton, North Carolina, west beyond the Blue Ridge Mountains.
Trouble pursues, as the two men intent on seeing her recovered prove relentless in their hunt. Trouble awaits in the form of a divided frontier community. Across the mountains the State of Franklin has been declared, yet many settlers remain loyal to North Carolina. Chaos reigns, thwarting Tamsen and Jesse's hastily cobbled plan to keep her safe.
With her pursuers ever nearing, the region in turmoil, neighbors grown suspicious of her presence, Tamsen's safety is soon put in greater jeopardy. Gaining the freedom she longs for will mean running yet again, to the most unlikely refuge imaginable—the Cherokees, a people balanced on the knife edge of war.
But the biggest complication may prove to be Tamsen's growing bond with her knight in greasy buckskins, Jesse Bird. Falling in love was never part of the plan.
Review:

Okay. I admit it. I am a super jaded reader. It takes a creative plot, larger than life characters, and some sweet turns of phrases to even slightly tickle my reader bone. THE PURSUIT OF TAMSEN LITTLEJOHN not only meets those requirements, it rockets right to the top of my favorite reads list.
And Lori Benton is one of my new favorite authors. I don't have many faves, folks, so this is quite the feat indeed.
So, let's get down to the nitty grittiness of why the heck I'm making such wild claims. I suppose it mostly boils down to how thoroughly the hero, Jessie Bird, stole my heart right along with the heroines. He is seriously "da man." What red-blooded woman wouldn't swoon for a fella who looks out for her safety, is gentle yet tough enough to fight off enemies even when he's shot and bleeding, and sports a serious six-pack beneath his shirt. Whew. Is it hot in here?
Okay, so besides my obvious man crush, let's talk plot. There are some great twists and turns in this one. In fact, you don't find out some very important information until near the end of the book. Don't panic. No spoilers here. Just know that you're in for a real treat of a surprise.
I also love the history lesson woven throughout the story. No dry textbook dates and names, just plenty of true action.
I picked up this title because of the recommendation of a friend. So here I am, friends, passing that recommendation along. This is a keeper. Now then, I'm off to buy every last other title of Lori Benton's even if it makes my credit card smoke.
Reviewed by: Michelle Griep at: Michelle Griep
---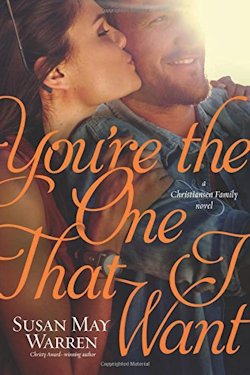 You're the One That I Want
by Susan May Warren
Publisher: Tyndale House Publishers, Inc. (February 1, 2016)
ISBN-10: 1414378467
Description:
Owen Christiansen has been in a downward spiral since an injury ended his NHL career. But a job on an Alaskan crabbing boat offers a fresh start . . . maybe even a shot at romance with Elise "Scotty" McFlynn, the captain's daughter.
Used to being one of the guys, to never relying on anyone, Scotty doesn't believe in happily ever after―especially with someone like Owen. Her instinct is confirmed when Casper Christiansen arrives to drag his prodigal brother home, bringing with him a truckload of family drama―and even worse, the news that Casper is wanted for questioning in connection to a crime back in Minnesota.
But Owen is more than the sum of his mistakes, a truth both he and Scotty discover when she escorts both brothers to Deep Haven as part of her new job on the Anchorage police force. Thrust into an unfamiliar world of family, faith, and fresh starts, Scotty begins to see potential for a happy ending . . . if she's brave enough to embrace it.
Review:
You're the One That I Want is the final book in the Christiansen Family Series. This book centers around Owen, the black sheep of the family. After getting into a fight with his brother Casper, at their sister, Eden's wedding, over a girl, he fled without telling anyone where he was going. Upset with the turn of events in his life over the previous months, he just wanted to run away. The story begins with him working on an Alaskan crabbing boat. He has worked on his attitude and lifestyle, trying to turn things around, even thinking about going back home. In the meantime, he develops feelings for the captain's daughter, "Scotty" McFlynn. Due to unforeseen circumstances, Scotty, who is also a police officer, escorts Owen and his brother, Casper (who had gone looking for Owen) back home, after Casper is accused of a crime he didn't commit. While Scotty has developed feelings for Owen, she feels she is not the marrying type. However, the pull of the love of a good man as well as his family becomes hard to resist for her.
This was a great way to wrap up the series, though the last book in a series is always hard, as you feel like you are saying goodbye to your family. I loved seeing how far Owen's character has come. He was such a bitter man when last we read about him. The fact that he became aware of the dangerous path he was on and turned around was wonderful to see. It was also great seeing how everyone elses stories tied into this one and came together at the end. This was a great series and I highly recommend all of the books.
Reviewed by: Sarah Meyers

BONUS THOUGHTS!
Nora St. Laurent called this one of the books she adored and that moved her this year. Read her review here: http://www.psalm516.blogspot.com/2016/02/susan-may-warrens-wonderful-conclusion.html
---

---