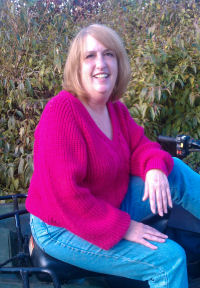 Have you ever met someone who couldn't afford to buy the books she loves so she wrote her own? Well, you have now! Wanda Dyson has always loved the written word, and she writes stories that are filled with suspense, faith, family, and friendship. Wanda writes the kind of stories that capture her own imagination, and much of her idea gathering takes place within the beauty of her family's working horse ranch. Whether seated atop her favorite horse, Nanza, or frolicking with her German shepherd, Maya, Wanda's imagination is continuously mulling over story ideas and plot lines.
God has led Wanda on a rather unexpected journey to publication, and she honors that success with an obedience that frees her to write the stories God places on her heart. When you pick a novel with Wanda's name on the cover, you can expect rich characters whose lives intertwine in realistic and meaningful ways. The suspense and danger that fill the pages only serve to make the characters' trials of faith ring true for her readers. Wanda shares her love of writing with others as she serves the Greater Philadelphia Writers' group as well as the American Christian Fiction Writers association.
Your Website states that you live on a working horse farm. This rural setting is quite a departure from the suspense that fills your books! Where do you get your ideas? Does a ride through the countryside help you create, or calm you after a busy writing session?
I love living in a rural area, and while it may seem like a departure, is it really? Danger can come from a snake, a coyote, or a mad groundhog just as easily as being thrown from a horse. Okay, seriously, my ideas come mostly from both the news and my imagination. I might hear a news story and my mind just naturally starts taking seeds of that story and weaving into something else entirely.
I have two ways that I ride the countryside and they are totally different and have different results. If I saddle up Nanza and take a leisurely ride, it's just she and I and all that nature. I see every raccoon or heron, watch the deer, smell the fresh mown hay in the fields, and revel in the silence that isn't silent at all. That's the time I let my imagination run wild with ideas and characters and plots and situations. But if I fire up the four-wheeler, take Maya, my German shepherd, plug in my iPod with worship music, and take off, it's a high-speed run across fields, through the creek and woods, and then it's to clear my head, get centered back with Father, and shake off everything except Him. I come back just as refreshed, but centered in a different way entirely.
Your latest book, Judgment Day, seems to be ripped from the headlines! Where was this idea born?
I heard about one cable news reporter who "interrogated" a woman so severely that she went home and committed suicide. That upset me so greatly that my mind would not let go of it. For months it brewed in the back of my thoughts until I began to see Suzanne Kidwell and Judgment Day was born.
Do you think today's media has too much power to influence people's minds? Why or why not?
I don't think they'd have nearly the influence they have if people took the time to realize that most of them have an agenda. Most viewers take what they hear as "gospel" without ever checking the facts or getting the other side of the story. For that reason, yes, the media has way too much power, but more and more people are starting to question what they're hearing rather than just accepting it as truth. But to be honest, we all like that sensational piece of gossip that makes us want to run tell someone.
You include a lot of very personal relationships in your story. Family and friends play a vital role in the plot and the decisions ultimately made by your characters. Why are these relationships such a vital part of your suspense tales?
The Father gives us family and friends who play a vital role in our lives, from making simple decisions like where to go for dinner, to support when there's a major crisis. I don't know anyone who could go through a crisis—even if it's just a character in my books—without the same influences we have—some who give us wisdom, some who give us feelings, and some whom we know to ignore, but we love that they love us enough to care. That's part of being a member of the human race.
Have you always been a writer of stories? Can you tell us a bit about your journey to publication?
I've always been a writer in one form or another. Even when I worked in marketing and advertising, I was still writing human interest stories for local papers or poetry for myself. When you're born to be a writer, you just have to write. I left the business world to stay home and take care of my daughter, who is severely handicapped. When money got tight and I couldn't afford to buy books, I was on the edge of going through withdrawal, so I decided to write a book for myself. I just sat down and started writing, letting the characters take me wherever they wanted to go. Several people read it and told me I needed to get published. I laughed at them and went back to writing.
After writing about five of these novels, a friend gave me a three-day pass to a Christian writers conference. There, I had to show some of my work to a man named Lee Roddy, the creator of the Grizzly Adams books and movies, and he was so enthusiastic I knew I was on the right track. So I started going to conferences, learning the craft (POV was a big problem for me), and then one day an author friend of mine recommended that an editor friend of hers take a look at something I was working on. Within a few weeks, I was under contract. Seven books later, I'm still here, writing books.
Can you share with your readers a bit about your writing style? What schedule do you maintain? What part of the writing process do you enjoy most? Least?
I like adventure movies, lots of action, fast-paced, edge-of-your-seat, high-octane and keep you breathless, surprise ending . . . so I tend to write that way. I give minimal details where I can and keep the action going as fast and as high-octane as I can. Then I try to give the reader a surprise ending. My schedule is haphazard: I get up in the morning, feed all the animals, and hit my office by noon. I write a bit, answer e-mails, make phone calls, or take care of conference work in between taking care of my daughter, who is in and out of my office all day, wanting or needing something. And you never know when a horse is going to escape, or the ducks are going to get into the garden, and everything stops while I deal with that. After dinner, the house gets quiet and that's when I do most of my serious writing, working nonstop until about 3 or 4 a.m. Then it's up the next morning by 10:30 or 11, and do it all again.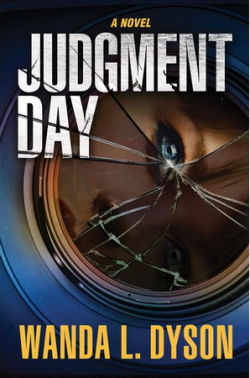 I like the creating—actually writing the story, creating the characters, getting it all down on paper. I hate rewriting, editing, rewriting, editing . . .
What has been your most unusual, and favorite, response from your fans?
They are actually one and the same. I received a fan letter from a retired police officer in Pennsylvania who wanted me to know how much he enjoyed my books and how "exactly right" I had captured life on the police force. Then he went on to tell me that he rarely reads books but loves mine. That just made my day . . . I picked up a fan who rarely reads and a man, to boot.
Do you have any favorite suspense authors?
David Baldacci, Harlan Coben, Lee Child, John Sanford, Tami Hoag, Terri Blackstock, Lisa Gardner. My favorite would be a toss-up between Lee Child and David Baldacci. I love Lee's Reacher series, and when David puts out books like True Blue and Saving Faith, I just can't put them down. I finish the book and think, I want to write like that when I grow up."
The suspense genre is my personal favorite because it seems to provide ample opportunities for faith to be tempted and tried. Do you think this genre is particularly powerful in the Christian market? Do you think it offers unique opportunities to tell others of Christ?
I don't think it's as strong in the Christian market as it is in the secular for a variety of reasons, but the top reason being that I think most Christians don't want to read about really bad stuff. Romance is king—or queen—whether it's historical, contemporary, or romantic suspense. True suspense just seems to lag behind. But I absolutely think it offers unique opportunities to reach people who have lives filled with bad stuff and need to know there is a Father in heaven who loves them, who will walk through it all with them, and who cares how their lives turn out.
Now that Judgment Day has made its debut, what project has your full attention? Can you give readers a sneak peek into your next story?
Believe it or not, I'm working on a historical novel. Of course, I can't write without adding some element of suspense, or at least a lot of high-octane action, but it's not about murder and crime scenes and detectives. It's based on the true story of a group of Lutherans who while on their way to this country in 1717 to plant a Lutheran church in Pennsylvania were highjacked at sea and sold as slaves in Virginia. It's a fascinating David-and-Goliath story that captivated me when I discovered it, and I fought the Lord for two years—Him telling me to write it, me replying, "But I write suspense!" Of course, I finally said yes. And right behind this historical will be my next suspense novel, The Vigilante.
What exciting things is God showing you at this point in your writing career?
To let Him take my writing wherever He wants it to go. Whether it's a true story like Why I Jumped, or The Man of Hebron, the historical I'm writing now, I write for Him, so I write what He wants me to write.
Any closing words you'd like to share with your fans?
I want to wish all of them a very Merry Christmas full of blessings from the Father, and no, I don't know when Shepherd's Run will be released. The publisher still hasn't told me. Thanks for reading my books. I love you all!
---

---
Kim Ford has been a resident of Alabama for more than ten years. Originally from Georgia, she holds a Bachelor's degree in English from Brenau Women's College. She has spent the past 9 years in sales and marketing and has been an avid reader of Christian Fiction for more than 20 years. A mother of two teen sons and married to a technical writer and Army veteran, Kim's life is full and blessed. She and her husband also volunteer as teachers for a resident rehab program for women with life-controlling issues. She uses her fiction to encourage the ladies she teaches. She blogs at: Window To My World