Kelly Klepfer came on board Novel Reviews several years ago as the Senior Editor through her connections with Gina Holmes, Ane Mulligan and Jessica Dotta of Novel Journey fame. Novel Reviews is the baby sister of the popular Novel Journey. At Novel Reviews we offer honest reviews of Christian and secular fiction titles and love to promote exceptional fiction. We began to do so after we met the authors via their interviews at Novel Journey. Disclaimer: Our reviewers are not paid for their reviews. Some may consider the receiving of a complimentary book or loosley bound manuscript (by publisher or author), as a form of compensation, so, be forewarned that our reviewers RECEIVE BOOKS. In our defense, it would be difficult to review without them. (Also, we are not affiliated or paid for any links to online bookstores.)


NOVEL REVIEWS CORNER
---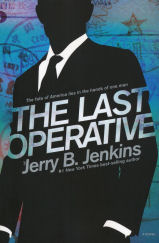 The Last Operative
by Jerry B. Jenkins
Genre: Christian Fiction (Espionage!)
Pages: 384 Trade Paperback
Date Published: June 24, 2010
Publisher: Tyndale House Publishers
My rating: 4 of 5 stars
Description:
Jordan Kirkwood wants to go quietly into the sunset. His career as an NSA intelligence officer has taken a significant toll. His two adult children are little more than distant acquaintances. His wife has been patient and supportive, but he knows she has deserved better. That was part of the reason they were going to London. He wanted her to see Europe like a tourist. But that was before he was given intelligence information during the recent mission to Germany. The threat is grave—bigger than 9/11. And the risk is compounded by the fact that someone inside the NSA is involved. The most hidden place in Kirkwood's past will have to be unmasked in order to meet the challenges of this mission.
Review:
What an adventure! I agree with Jerry that this is an amazing book cover, it says so much. The Last Operative is a novel that keeps you going from page to page and chapter to chapter. It is one of those long lasting adventures where when you think something big and full of adrenaline just happened and that you and recuperate, something even bigger happens. To me at first the book ends abruptly, but in retrospect looking at it, it fits right in. Because if you blink, something else is going to happen!
Knowing that The Last Operative is a retelling of Jerry's first standalone novel is hard to fully grasp, because this book is so literal and set with today's political avenues, but then I guess history does repeat itself. Jordan Kirkwood is a great character, if you know me at you, you probably know that I have a very fond love of the television show and books Alias from J.J. Abrams and many other things espionage. Jordan is an NSA (National Security Agency) CIA-like (Central Intelligence Agency) operative and currently one of a kind. He is in for quite the unexpected adventure even in his line of work and his future and past as well as his faith are all at stake.
Jump on in and enjoy the story, but be prepared to put a little time aside to read the whole thing, because you won't want to stop.
Reviewed by: Margaret Chind at: "Creative Madness"
Bonus Review
I'm thankful to have received a review copy of The Last Operative, by Jerry Jenkins. He creates a story with a 007 type character that is faithful to his wife and family. Even though he's away on missions and he doesn't see his family much, he's thankful to his wife for holding it all together while he's away. He's passionate about his family and will lay down his life for them.
Jordan Kirkwood, NSA intelligence operative is finally going to make his wife's dream come true. She's wanted to see Europe as tourists-Problem: he's just found out a secret that could end life as he and everyone else knows it. Who can he trust? What can he do? "Jordan was tempted to break his cover, to assure the authorities that all the bullets had come from the same weapon! But he knew this would be determined soon enough by ballistics." He could be compromised if he reveals this secret, but the situation will put the country on high alert—his life could unravel fast and furious if he does what he's thinking about doing! What about his wife and kids? Everything he holds dear could change in the blink of an eye.
Unbelievable things happen to Jordan in his quest for answers. He even begins to question his faith in God and his own instincts become shaky. His life was turning upside down and inside out. Would he risk it all to find out what was really going on? Jordan's career has taken a toll on his family, because he hadn't realized the stakes were so high until he learned of this secret. "Facing the ugliest side of himself. There's no making up for lost time, is there? I've just royally screwed up my relationships with my kids."
This book has it all - action, adventure, espionage, romance - and so much more. Jerry Jenkins creates likable characters on top secret missions that will have you up late to see what happens next. Jerry Jenkins says that this is a stand alone book he re-wrote for modern readers, but in my opinion, he did leave it open to a sequel. I'm just saying!

Grin!
Reviewed by: Nora St. Laurent at: "The Book Club Network"
---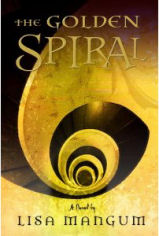 The Golden Spiral
by Lisa Mangum
Shadow Mountain 2010
978-1-60641-635-8

Review:

His eyes. His touch. His kiss. Now Dante's gone and Abby will do anything to get him back.
The hourglass door has closed behind Dante, sending him back in time to hunt down Zo, Tony, and V. Abby knows that Dante, as a Master of Time, is the only one who can stop them from destroying time itself. She also knows that he will need her help. But almost immediately, things start to change, and Abby's worst fears are realized when Zo begins targeting her past specifically.
The bank is eroding. The barriers are thinning. And time is running out.
All right. True confession time. I read the last page of this book before I started the story. Stop your groaning. If you read the first installment of this trilogy - The Hourglass Door - then you'll totally understand my need to know if Dante and Abby end up together or not. So...do they? Unh-unh, not telling. You'll have to read The Golden Spiral to find out.
All that to say that The Golden Spiral is an absolute must read. Yes, the love story between Dante and Abby manages to deepen. Sure, the action is non-stop. And of course there are more mind-bending time travel concepts to consider. But what amazed me most is the stunning writing that author Lisa Mangum cranks out for her sophomore novel.
Frequently the second book in a series turns into a yawner. An author has a truckload of time to put into a debut novel but the second is usually written under a deadline. That can make for mediocre writing. Not so for Mangum. Snappy turns of phrases. Depth of emotion. A plot that twists more than the river of time. Mangum pulls off all this and more.
My only grump is that now I have to wait until Summer 2011 for the third and final installment in The Hourglass Trilogy. When it finally hits the market, I will be the customer with my face mashed against the bookstore door waiting for it to open. And if you read The Golden Spiral, as I highly recommend, I'm sure I'll see you there too.
Just don't get in my way.
Reviewed by: Michelle Griep at: Michelle Griep
---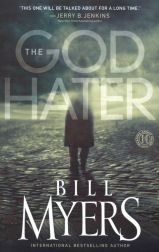 The God Hater, A Novel
by: Bill Myers
Format: Paperback
Number of Pages: 320
Vendor: Howard Books
Publication Date: 2010
Book Description:
When atheistic professor Nicholas MacKenzie is asked to create a virtual world, he jumps at the chance. But every computer model he initiates---Darwinism, Existentialism, Relativism, and Buddhism---fails. Finally, he introduces a Law Giver---but attracts a nasty virus. Can he save his creation without personally absorbing the virus? A powerful allegory!
Review:
The God Hater paints a picture within a picture and spins a fascinating story.
Professor Nicholas MacKenzie, a famously arrogant atheist, finds himself sucked into a cyberworld drama by his techie brother, Travis.
Travis has discovered the secret to Artificial Intelligence and cut throat spies will do what it takes to steal that secret. And there is another problem in Travis's newly created world. Seems the people have a tendency to kill each other off. Nicholas is the only one with the philosophical expertise to provide the missing piece of the puzzle. Surely, his knowledge will give the programmers the key to the human psyche.
Reality, created and otherwise, do not follow carefully crafted plans and Nicholas finds his whole world and belief system twisting and turning madly as he tries to keep the computer world alive and flourishing.
This is a whip-fast read and one that is both enlightening and challenging. There are a couple of rough patches that paused the pace a bit, but overall this is a keeper. Fascinating look at the human mind, spirituality and faith.
Reviewed by: Kelly Klepfer at: Scrambled Dregs
---

---