Kelly Klepfer came on board Novel Reviews several years ago as the Senior Editor through her connections with Gina Holmes, Ane Mulligan and Jessica Dotta of Novel Journey fame. Novel Reviews is the baby sister of the popular Novel Journey. At Novel Reviews we offer honest reviews of Christian and secular fiction titles and love to promote exceptional fiction. We began to do so after we met the authors via their interviews at Novel Journey. Disclaimer: Our reviewers are not paid for their reviews. Some may consider the receiving of a complimentary book or loosley bound manuscript (by publisher or author), as a form of compensation, so, be forewarned that our reviewers RECEIVE BOOKS. In our defense, it would be difficult to review without them. (Also, we are not affiliated or paid for any links to online bookstores.)


NOVEL REVIEWS CORNER
Novel Reviews reviewers all found some books to love in 2011.
January and February will be the months we reveal those favorites at CFOM.
This month. Margaret Chind, Michelle Griep and Ane Mulligan sound out. Next month Nora, Kim and Jennifer give a shout.
Ane's favorite: "Susan May Warrens' Baby it's Cold Outside is a fantastic one!! The Christmas Belles of GA is an anthology and good. All 4 stories tie in because the protagonists are sisters."
---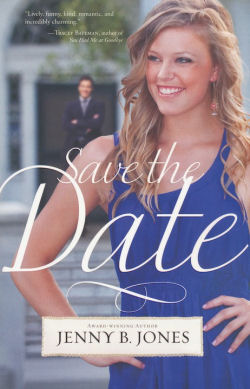 Save the Date
By Jenny B Jones
Published by Thomas Nelson
ISBN# 978-1-59554-539-8
311 Pages
Description
When Alex and Lucy pick out wedding invitations, they wonder if they can be printed in vanishing ink.
Former NFL star Alex Sinclair is a man who has it all--except the votes he needs to win his bid for Congress. Despite their mutual dislike, Alex makes Lucy a proposition: pose as his fiancée in return for the money she desperately needs. Bound to a man who isn't quite what he seems, Lucy will find her heart on the line--and maybe even her life. When God asks Alex and Lucy to scrap their playbook and follow his rules, will they finally say, "I do"?
Review:
Main Character Lucy's best friend Morgan says, "Is this a private mental break down or can anyone join in?"
I choose to join in the fun and you will too when it comes to reading this and any one of Jenny B. Jones's books. She has a gift of drawing the reader quickly into a world she's created and has you sympathizing with her characters while learning a thing or two. I was so thankful for the review copy of such a brilliant book.
Lucy is the director of Saving Grace home for girls. Donations were down and time was running out on her lease. Alex is in the middle of a heated campaign and needed Lucy's help with the election process. Alex saw Lucy had a passion for Saving Grace and had the potential to help him win the election.
"Alex, do you know what Saving Grace is? Did you know in our country wards of the state are considered adults at eighteen? As soon as they graduate high school, many of them are forced to leave the foster care system. They become instantly homeless. With little help, no life skills. The girls at the home have real hopes and dreams just like the rest of us if given a chance. Saving Grace is their chance."
Alex has a plan and a marriage proposition for Lucy. They could help each other. It would be strictly a business deal. It reminded me of The Princess Diaries, where Anne Hathaway learns she is next in line to the throne and starts Princess Lessons. Lucy is not studying to be a princess but she has to learn about political matters and who's who to get along at social functions she attends without Alex. How would the doors stay open for her girls at the home? Could she even entertain Alex's proposal? That was the question. Could she pull off what he was requesting? She's despised Alex since high school. He knew what she thought about him. That he was one of those rich kids that could fix anything with money. She didn't mingle with his kind. Alex had to convince her this could work, that he could do. There was a lot of work ahead and they both knew how much after Alex's questioning, that went something like this:
"Lucy do you know anything about football?"
"You toss a ball around and throw people to the ground. What else is there to know?"
"….if we're going to do this I think I should know everything about each other. Don't you agree?
"I'll send you a memo."
"No we're going to have to get to know each other the old fashioned way. Talking . Spending time together. Texting."
Oh, God help her, let the games begin! Alex seeks the help of Clare in educating Lucy in political matters and manners so she does well at campaign dinners and events. This reminded me of Julie Andrews trying to teach Anne Hathaway manners and policies of running a country. Hysterical!
No one can describe situations like Jenny or create characters you can totally relate to. Make sure you set aside time to enjoy every minute of this book. I think Save the Date is Jenny's best novel she's written so far. Not only will you laugh out-loud, have your heart hurt at certain parts, but the important message in the book will remind you that the only things worth living for are faith, family and friends. I highly recommend this book and will be doing just that to my book club.
Reviewed by: Nora St.Laurent at: The Book Club Network
Bonus Review:
You know that wonderful anticipation you feel as you open up the wrapper of your favourite chocolate to reveal that all the chocolaty goodness inside? Well, a Jenny B Jones novel will give you that same feeling without any of the calories ~ what could be better?! Save the Date is a gorgeous story overflowing with witty repartee, feisty moments and plenty to tickle the funny bone as well as touch the heart. I adore Jenny's gift for creating authentic, down to earth characters who battle pride, anger and impatience but also reflect generosity of spirit, tenderness and compassion. The conflict between Lucy and Alex is refreshingly genuine as their prejudices collide and their slow journey towards like and then something more is enchanting and entertaining. Can't wait to unwrap more fabulous novels from one of the most talented writers I know!
Reviewed by: Rel Mollet at: Relz Reviews
Bonus Review
Jenny B. Jones has joined my list of favorite authors with Save the Date. Though filled with laugh-out-loud moments, it carries a deep message for all women. Lucy, one of the best characters I've read, continues to linger in my mind. I didn't want the story to end. Her other characters are equally memorable. Save the Date is a book I couldn't put down. Novel Journey and I give it our highest recommendation: a 5-star read.
Reviewed by: Ane Mulligan at: Novel Rocket
Bonus Review:
Though this storyline seemed highly improbable to me, I found myself enjoying this book. It's the classic story of two people who hate each other hating so much that they fall in love. Alex is a former NFL star, 'ladies man', and now wanna be Congressman who needs to change his public image. Lucy is a eccentric 30 something post foster care girls home director who doesn't have enough funding to keep Saving Grace (the girls home) open. What starts out as a business proposition quickly turns into much more...and Alex ends up coming to terms with the guilt in his past....while Lucy finds her self worth and identity; each helps the other draw closer to Jesus, the only one who can totally heal them both. With plenty of laughs and along the way, I ended up enjoying this book.
Reviewed by: Rachael Schnitker
Bonus Review:
I nearly missed Save the Date, thinking it was another "fluff romance." Drawn to a heroine involved in the lives of foster girls, I picked up the novel with meager enthusiasm. By page two, I was hooked. By chapter three, my family began to stare at my frequent bouts of laughter. Jenny B. Jone's witty, sarcastic humor left me completely unprepared for the run-for-a-tissue moments that followed. Few novels can take me from giggles to tears then back to giggles again, yet Jenny B. Jones roller-coastered my emotions on numerous occasions.
I loved each one of her characters, from their Star-Wars-loving quirks, to their riotous remarks, Lucy being no exception. Like her 1950's counterpart, Mrs. Ricardo, Lucy is uncouth, clumsy, and often manages to entangle herself in quite a mess. But beneath her almost goofy (yet beautiful) exterior hides a girl with a heart as big as the disasters she creates.
And then there's Lucy's boyfriends, two men as different as chocolate and bananas, yet equally inviting. Although I longed to hate Alex, her fianceé for hire, I found myself rooting for him instead. Matt, poor Matt, Mr. Tried-and-true, predictability, left me equally convicted. He reminded me of a lost puppy dog robbed of his bone. Needless to say, I understood why Lucy tripped over her words and her feet so often. In the end, I found Save the Date to be an emotionally satisfying novel able to evoke a gamut of feelings, often in a single page. Ironically, the novel I nearly passed up became my favorite read for 2011.
Reviewed by: Jennifer Slattery at: Jennifer Slattery Lives Out Loud
---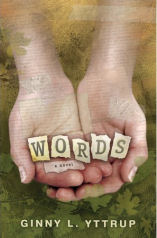 WORDS
By Ginny L. Yttrup
Published by B & H
ISBN#978-14336-7170-8
363 Pages
Description:

"I collect words. I keep them in a box in my mind. I'd like to keep them in a real box, something pretty, maybe a shoe box covered with flowered wrapping paper. Whenever I wanted, I'd open the box and pick up the papers, reading and feeling the words all at once. Then I could hide the box. But the words are safer in my mind. There, he can't take them."
Ten-year old Kaylee Wren doesn't speak. Not since her drug-addled mother walked away, leaving her in a remote cabin nestled in the towering redwoods-in the care of a man who is as dangerous as he is evil. With silence her only refuge, Kaylee collects words she might never speak from the only memento her mother left behind: a dictionary. Sierra Dawn is thirty-four, an artist, and alone. She has allowed the shame of her past to silence her present hopes and chooses to bury her pain by trying to control her circumstances. But on the twelfth anniversary of her daughter's death, Sierra's control begins to crumble as the God of her childhood woos her back to Himself. Brought together by Divine design, Kaylee and Sierra will discover together the healing mercy of the Word-Jesus Christ.
Review:

"I can't talk. I can't breathe. Tears choke me."
That's exactly how I felt when I read the last page of this book. I'm thrilled to have received a review copy of such an astounding, debut novel. I haven't read anything this profound, inspiring and life changing since Redeeming Love and June Bug. The author is a master wordsmith and trusts the readers' imagination to fill in the blanks about the abuse Kaylee endures and talks about it without being graphic. Ginny L. Yttrup has overcome sexual abuse in her own life, is compassionate towards its victims and has penned a story filled with healing and hope. Ginny shows the reader a way to shine the light of Jesus in the darkest places of life in a real way.
Kaylee is a ten year old girl fascinated by words. Words are a colorful protective shield she uses to give her hope and clarify things she doesn't quite understand. Kaylee is a bright and loving child surviving day after day anticipating her mother's return.
I enjoyed Ginny Yttrup creative writing style. It was fun to read and had a powerful impact to the story, for example Kaylee says, "my favorite C word - co-loss-al. It means awesomely huge."
She uses it to describe the colossal redwood trees she loves. The tree is her special place to hide her earthly treasures and new words. The author's style adds richness to the novel and gives Kaylee a distinctive way of expressing herself.
"I'm so hungry I could eat the scrambled egg in one bite. Instead, I try to make it last, make it seem like more. I take tiny bites. I think of a word that I added to my box this week.
Sa-vor – verb 1) to perceive by taste or smell, esp, with realism 2) to give oneself to the enjoyment of: savor the best in life.
Yes, I savor each bit of my eggs."
This author's unique voice allows the reader to experience and see the healing power of love in action. This book is not preachy but potent. The message is clear "Jesus is the word – the most important word"
Ginny had me going in parts of the story I thought I had figured out, and threw in twists I didn't see coming. Parts were surprising, suspenseful and I found myself nervous for the characters. This book is quite an experience, one you'll never forget and don't want to miss. This novel is one of the reasons why I read and promote Christian Fiction. I highly, highly recommend it. Treat yourself to reading Words. I don't know where Ginny will go from here but I'll be following.
Reviewed by: Nora St.Laurent at: The Book Club Network
Bonus Review
Brilliant, brave and beautiful are the words that come to my mind when I ponder Ginny Yttrup's debut novel, Words, a story that is captivating and generates tears of sadness and joy. Drawing from her own experience of abuse, Ginny invites readers, with skill and sensitivity, into young Kaylee's traumatized world revealing her fears and her determined spirit. Sierra is a complex character whose battle with loss and devastating guilt will resonate with anyone who looks back on their life choices with regret. Words is a compelling reminder that while tragedy and sin are confronting and soul shattering, there is hope and healing to be found in the forgiveness and grace Jesus offers. I cannot speak highly enough of this new found talent and I look forward to reading many more of her books to come.
Reviewed by: Rel Mollet at: Relz Reviews
Bonus Review:
"There isn't a word for what I feel." (p. 125)
Sierra Dawn and Kaylee Wren are people for whom words cannot begin to name the hurt that they feel and the pain they have suffered. Sierra, at the point in her life we meet in the story, is a thirty-four year old artist struggling beneath the stronghold of her past. Kaylee Wren is a ten-year-old that lives in the daily nightmare of poor choices created by her drug addicted mother. When these two lives intertwine, God sets in motion a miracle of love and grace, mercy and healing that only He could orchestrate. The journey is both painful, and beautiful, and it is one you will remember long after you read the final page.
Ginny Yttrup's debut novel, Words, is a well-written story about some very difficult life circumstances. Sadly, the circumstances are all too real in many lives that have become enslaved to a variety of addictions. The resulting chaos and pain are vividly set forth in this novel alongside the wonderful grace and mercy of our Heavenly Father who does indeed redeem us from the vilest situations. He loves us in ways we cannot begin to fathom, and he never wastes a moment to share his glorious grace throughout our every circumstance.
Ginny Yttrup has captured truth – God's truth – so beautifully and so poignantly that at times my heart ached so badly that I simply had to put the book down. However, by the end of the story, tears of pure delightful freedom ran down my face as I rejoiced in the truth of this story and all it means in my own life.
Reviewed by: Kim Ford at: Window To My World
---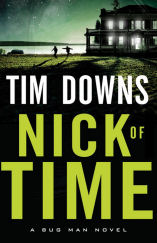 Nick of Time
A Bug Man Novel
By Tim Downs
2011
Thomas Nelson
978-1-59554-310-3
Description:

The Bug Man is getting married on Saturday…if his fiancée can find him.
Forensic entomologist Nick Polchak lives in a world of maggots and blow flies and decomposing bodies. No wonder he's still single.
But Nick has finally found a woman as strange as he is—dog trainer Alena Savard, a woman who is odd, reclusive, and can seemingly talk to animals. It was a match made in heaven.
Nick and Alena are scheduled to be married on Saturday—but there's one small problem. Nick has disappeared.
Caught up in a murder case involving an old friend, Nick finds himself on a manhunt that's drawing him farther and father from the church where Alena is waiting. But will he make it back in time? Could Nick's single-minded focus cause him to forget his own wedding? Is he really pursuing a killer, or is he running away from something else?
Review:

Quickie review: mmm-mmm-mmm.
Longer version: You know when you have a mosquito bite on your back that you can't quite reach but it's itching like a bugger? So you beg someone—anyone—to scratch that one little spot. And when they finally reach it, you know that heaven is a real place and that you've died and gone there?
Yep.
That's exactly how you'll feel when you read Nick of Time. I've been waiting all year for this wedding and I was NOT disappointed. Nick's as goofy as ever. Alena as cagey. Donovan is a hilarious side-kick whenever he's in the picture. My-oh-my…this is one crime scene you won't want to miss.
I can't wait till Nick and Alena have kids.
Reviewed by: Michelle Griep at: Michelle Griep
Bonus Review
Nick Polchak is a character, who for women, magnifies, exaggerates and sums up the error of male thinking and communication. When Nick is confused and fumbling he's oh, so, cute. But when he puts a foot in it, or crosses over those lines, POW!, it's nice to see him get a little grief. I think men can identify with Nick because he says the things most men know not to say and that's got to be a vicarious thrill. Regardless. Nick is a bumbling, brilliant, charming, maddening character whom I have grown to love.
I'll admit to being almost horrified at the end of the Ends of the Earth. When the reader was left hanging over which woman was chosen by Nick. I was very glad that Nick fans voted and chose like I did. Had the other woman been chosen I'm afraid I couldn't have enjoyed Nick of Time. But, that said, I can also say, I loved, loved, loved Nick of Time.
Nick has chosen his soul mate. And, Nick is Nick, so things go awry and get twisted and people die and maggots are involved. Nick forgets (or never figures out) basic, common sense rules about love and weddings. And Nick gets caught up in thoughts that mess with his mind. I'm not going to say much more about the story because I don't want to ruin one word for fans. I will say that I was nervous and concerned about how the book would end but was super satisfied at the conclusion, especially because the story is wide open for at least one more good book. A little plot twist was a terrific surprise. And the character interaction and the writing are beautiful things.
Well done, Mr. Downs….keep them coming. Please!
Reviewed by: Kelly Klepfer at: Scrambled Dregs
---

---