I, Kristin Billerbeck, the creator of fashion-conscious, slightly vain Ashley Stockingdale, have an incredible memory for all things ridiculous. If there's no point in remembering something, it's stored away in my brain. I guess that's why all the numbers had to get lost —unless they were phone numbers of cute boys from my past. Those are still there. But if it involves math, nope...gone.
Read more

---
Fiction Etiquette with a Southern Twist Twisted Southern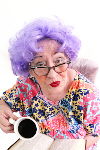 Good mornin', everyone. This heah column will delve into the world of fiction etiquette according to moi. And that would be me, Jan Flanders—Ms. Flanders to you, honey chile. Let me assure you, Ah do not ascribe to the type of casual familiarity that is just toooo prevalent among young people today. To indulge in such folderol is certainly not the way Ah was reared, thank you very much, and Ah don't have the least intention of perpetuatin' it.
Read more