REVIEWERS CORNER
Featured Reviewer - Sharon Lavy Featured Reviewing of the Month - Suspense

Sharon A. Lavy inherited her love of books from her father. Her mother introduced her to the public library at a young age. She never lost her affection for reading—much to her husband's dismay. She has over 250 books on the writing craft alone.
Sharon has been sharing the romance by posting book reviews on her blog I Dream Of Writing For God, http://sharonalavy.blogspot.com/, since December 24, 2007. She is now a blogger for Thomas Nelson, Zondervan, and Kathy Carlton Willis Communications, as well as many of her friends who are published authors.
A budding writer, she has two finished manuscripts and another peculating in her brain. She lives with her husband and a granddaughter in South West Ohio.
---
EXPOSURE by Brandilyn Collins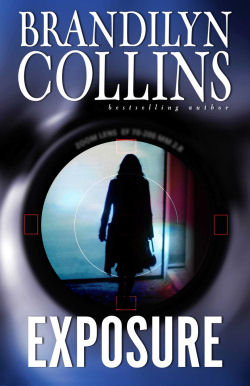 About the author:

Brandilyn Collins is a best-selling novelist known for her trademark Seatbelt Suspense®. These harrowing crime thrillers have earned her the tagline "Don't forget to b r e a t h e . . ."® Brandilyn's first book, A Question of Innocence, was a true crime published by Avon in 1995.
Its promotion landed her on local and national TV and radio, including the Phil Donahue and Leeza talk shows. Brandilyn's awards for her novels include the ACFW Book of the Year (three times), Inspirational Readers' Choice, and Romantic Times Reviewers' Choice.
Brandilyn is also known for her distinctive book on fiction-writing techniques, Getting into Character: Seven Secrets a Novelist Can Learn from Actors (John Wiley & Sons). The Writer magazine named Getting into Character one of the best books on writing published in 2002.
When she's not writing, Brandilyn can be found teaching the craft of fiction at writers' conferences. She and her family divide their time between homes in the California Bay Area and northern Idaho.
The Blurb:
When your worst fear comes true.
Someone is watching Kaycee Raye. But who will believe her? Everyone knows she's a little crazy. Kaycee's popular syndicated newspaper column pokes fun at her own paranoia and multiple fears. The police in her small town are well aware she makes money writing of her experiences. Worse yet, she has no proof of the threats. Pictures of a dead man mysteriously appear in her home—then vanish before police arrive. Multisensory images flood Kaycee's mind. Where is all this coming from?
Maybe she is going over the edge.
High action and psychological suspense collide in this story of terror, twists, and desperate faith. The startling questions surrounding Kaycee pile high. Her descent to answers may prove more than she can survive.
My Take:
Kaycee's paranoia and fear should make her hard to sympathize with. Brandilyn's writing skill kicks in right away and the reader is rooting for Kaycee to overcome her fears. We care.
Brandilyn has a BHCC club. Big Honkin' Chickens Club for her friends who are too chicken to read her suspense novels. I have read several of her books. Piece of cake. Who would be afraid to read them? Well three-fourths of the way through Exposure I was afraid I would be joining the BHCCs. Sigh.
I mean what was with Lorraine? Right there on page 209 I wanted to shake her. Get with the program! Get out of there! Don't you know you are in danger? As I write this review my heart is still pounding. As Brandilyn says: Don't forget to breath . . .
Reviewed by Sharon Lavy of I Dream Of Writing For God
---
An Eye For An Eye by Irene Hannon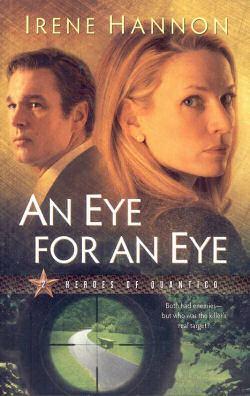 Hostage Rescue Team member Mark Sanders is recuperating as a field agent in St. Louis after a shooting in which a teenage boy lost his life. In four weeks he's due back at Quantico. Physically he's in good shape, but emotionally he's not faring so well. On an early morning jog in a quiet park he recognizes a woman he hasn't seen in 20 years. At the shock of their unlikely reunion and remembrance of their "first love" experience, they share some smiles and good conversation until a single shot pierces the air and the arm of Emily Lawson. Mark grabs her and scrambles for limited cover as one more shot is fired. He's on his cell phone giving detailed instructions as the blood pools and Emily's color begins to fade.
Some of you might remember my review of Irene Hannon's first book in this Heroes of Quantico series Against All Odds. In that review I noted that Irene hit her target audience with a bulls-eye. Score another direct hit for the author with An Eye for an Eye. Romantic suspense with just enough of each to keep the multi-age spanning female audience enthralled and engaged without any graphics, this story gives you appealing characters with a faith perspective.
Mark Sanders is irresistible, charming, and committed to his work. Dr. Emily Lawson's counseling work absorbs her waking moments in the aftermath of tragedy. Her devotion to helping hurting people is genuine even though she struggles to follow her own advice to them.
It's assumed Mark is the target, but when the usual leads to that possibility seem to evaporate, the investigation shifts indirectly to Emily. Given the opportunity to spend time "protecting" her, he realizes the empty places in his life he has previously chosen to ignore.
An Eye for an Eye is pure and simple romantic suspense for the focus group of CBA female readers. Score another good effort for Irene Hannon with the clear emphasis on story.
Reviewed by Nicole Petrino-Salter at Into The Fire
---
The Swiss Courier by Tricia Goyer and Mike Yorkey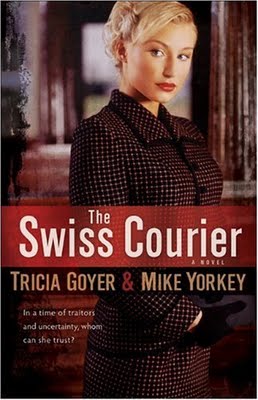 Synopsis:
She's risking her life to save a man she doesn't know. But who can she trust along the way?
It is August 1944, and the Gestapo is mercilessly rounding up suspected enemies of the Third Reich following the assassination attempt on Adolf Hitler's life. Gabi Mueller is a young woman working for the newly formed American Office of Strategic Services (the forerunner to the CIA) in Basel, Switzerland. When she is asked to put herself in harm's way to safely "courier" a German scientist working on the atomic bomb project into Allied hands, the fate of the the world hangs in the balance.
This fast-paced, suspenseful novel will whisk you along the treacherous twists and turns of a fascinating- and deadly- time in history.
My take:
Tricia Goyer and Mike Yorkey have combined their talents to create an authentic, fast paced novel of a unique time and place in history. The action takes place in multiple locations from Basel, Switzerland to the University of Heidelberg, Germany, the characters pivoting from one dangerous subterfuge to another, never sure whom to trust. I particularly enjoyed the characterisation of the talented yet naive Gabi, the suave Dieter Baumann and the brilliant yet confused Jospeh Engel as each try to make sense of the volatile world they live in. The plot twists mirror the treacherous deceit necessary to survive in wartime Switzerland and Germany and the story is a remarkable tale of sacrifice and survival. If you don't mind raising your blood pressure a few notches while reading, The Swiss Courier is a must read!
Reviewed by Rel Mollet at Rel's Reviews
---