With the explosive success of Sherwood Pictures's third release, Fireproof, it has become obvious that the world has recognized the epidemic of failed and broken relationships and decided to see what the church has to say about it. It is a blessing that comes with incredible responsibility, and it seems that Sherwood Pictures isn't the only one willing to take on the responsibility. Screen Gems and TD Jakes Ministries teamed up to produce their own movie aimed at strengthening marriages and families.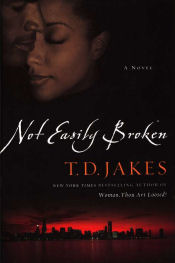 Not Easily Broken is a movie that was adapted by Brian Bird from a TD Jakes novel of the same name. As a veteran pastor, Jakes has years of experience counseling people coping with the fallout of infidelity, separation, and divorce. As a writer, Jakes embraced the opportunity to write a novel as "a catalyst for a bigger conversation." He saw it as a chance to show his readers that couples can't succeed in marriage without the help of God.
In TD Jakes's novel, Dave and Clarice Johnson are just like millions of other couples in America. Full of hope and love, they get married and set out to reach the stars together. After several years have passed, Dave has built a business that he enjoys and fulfills him. Clarice, however, just can't seem to get enough. Not enough success or money or independence. And she can't understand how Dave can be satisfied with a job that she sees as being beneath them both.
Even as Dave and Clarice struggle to maintain peace in their tenuous relationship, tragedy strikes. On their way to an award ceremony for Clarice, a truck slams into their vehicle, crushing Clarice's leg. Surgery saves her leg, but the injury endangers the one thing Clarice treasures the most—her independence. Fighting depression, Clarice begins physical therapy to regain the use of her leg. But when Julie, Clarice's beautiful physical therapist, befriends Dave, the Johnsons have to decide whether their marriage is worth fighting to save.
I have seen and heard TD Jakes preach. I think that several years ago, I saw the TV version of his Woman, Thou Art Loosed. But I had never read any of his novels. I was hooked by the end of the first line.
"By the time Dave Johnson saw the oncoming headlights it was too late to do anything but hold on and pray."
From the first page, I was captivated by the action. By the time the crisis of the wreck ended and the rest of the story began, I had made three decisions: I loved Dave. I couldn't stand Clarice. And TD Jakes is an impressive writer!
Jakes doesn't just craft an engaging story. He also achieves his goal of provoking thought and conversation about godly marriage. The reader is confronted by the realities of a dissolving marriage and the possibility of God's healing that same marriage. Jakes shows the reader that "love can endure" and that "love is stronger than infidelity."
Seeing TD Jakes's name on the cover of the DVD was enough to convince me that the movie was going to be powerful. I was excited to see Morris Chestnut and Taraji P. Henson as Dave and
Clarice, respectively. Jenifer Lewis also joined the talented cast as Dave's hateful mother-in-law. The actors are believable and skilled. In fact, Henson and Lewis's performances are especially outstanding.
This movie has some significant strengths. It is a realistic portrayal of a marriage in trouble. Unlike most relationship-focused movies, Not Easily Broken is seen mostly from the man's perspective and so it gives some great insight to which the normal audience wouldn't have access. Normally, men are portrayed as uncommunicative partners who refuse to discuss their feelings even among other men. But this movie flips that old stereotype on its head and depicts men who feel deeply and share those feelings openly with their brothers.
However, as much as I admire the purpose and the poignancy of this movie, I don't feel that it lived up to the standard that Jakes set in the novel. In short, I was disappointed.
This movie had two major weaknesses. The first thing I struggled with was that there were drastic changes between the book and the movie. Dave's best friend, Brock, obviously a Christian in the book, is not a Christian in the movie. In the book, Brock was an accountability partner of sorts for Dave, giving him guidance and advice. But in the movie, Brock is the opposite—a womanizer who feeds Dave's carnality. The screenwriter then added two prominent characters that had not appeared in the book. He spent so much time focusing on them and their subplots that there is almost no chance to get to know Julie—a major player in Dave and Clarice's marital problems.
The second major weakness I saw in the film was the prominent use of profanity. I live in the real, secular, unsaved world so I hear profanity every day. But when I watch a movie with Christian names stamped on the cover that is based on a Christian novel, I expect to hear language that I feel exalts the Christ whose name we wear. In the book, TD Jakes is able to clearly and honestly share the story of Dave and Clarice without ever using inappropriate language. The movie, however, cannot make this same claim. Throughout the entirety of the movie, profanity is consistently used. I was offended by it and because of that, I am hesitant to recommend it to many of my family and friends who I know would also be offended by it.
This month, I have to choose the novel, Not Easily Broken, over the movie version. While the movie has solid acting, the novel has the solid, undisputable, and uncompromising message for making God the center of marriage and of life.
*All quotes are taken from the special features on the Not Easily Broken DVD.