Every TTTS VIDEO is designed and produced by Award Winning (US Film Festival, USA Film Festival), Hollywood, WGA Screenwriter, Misty Taggart and her handpicked professional TTTS production staff and voice over talent. With her 20 years of experience actively working in animation and live action she is the driving force behind TRAILER TO THE STARS! PRODUCTIONS. Visit their website at http://www.TrailertotheStars.com or their Youtube site: http://www.youtube.com/booksinmotion . Among Misty's credits: ANOTHER WORLD (NBC), KNOTS LANDING, THE INCREDIBLE HULK, ROMANCE THEATER, FANTASY ISLAND, SCOOBY DOO, JEM, FAT ALBERT, TEENAGED MUTANT NINJA TURTLES ... and much more.

The most significant multi-media marketing tool you will ever invest in! For Information on TTTSers™ & available production dates...Email Misty at TrailertotheStars@gmail.com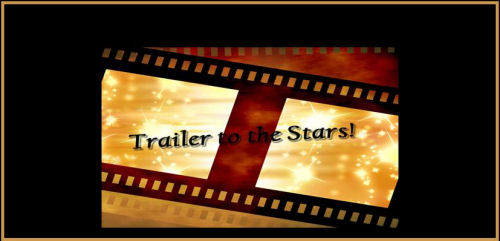 The Treacherous Trail Into The Jungle Of New Releases
We are moving headlong into spring, and the marketing of summer book releases is in full swing. Are you and your book lost between release and reader? Are you looking for a way to bring your book to the top of the heap? Think video.




In this digital-visual-multimedia world, authors are finding the value in having a professional book video. It adds the POW! to your marketing plan. A book video is used by not only authors, but also publishers. They show them at sales meetings and place them on strategic bookstore sites, such as Barnes & Noble, Amazon, and Christianbook.com. Bloggers post them. Whether the book video is funded by the author, the publisher, or both, it is invaluable in grabbing your readers' attention and teasing them just enough to send them to the online or brick-and-mortar bookstore. Isn't that where we're all headed?




One way to assure anonymity is to have an amateur-looking trailer. It will backfire and work against you, so carefully consider what you want representing you and your "blood, sweat, and tears" release.




Kathi Macias, best-selling, award-winning author of thirty books, had this to say when asked about book videos:




More people have told me that they specifically bought one of my books after seeing the book video than from any other marketing

tool, including postcards, bookmarks, etc. When I have a blog tour for a new book, I always request that bloggers include the link to the trailer.




Not only are my videos on the Internet, but I have them play a book video before a conference where I am speaking. I can't tell you how many women come up to me and say, "Once I saw that video, I knew I had to have the book—and to get extras for other people!"




My publishers are excited about the book videos and are using them more and more—and they are encouraging their other authors to do the same. They are as sold on them as I am!




When I began checking around—quality, prices, reputation—each foray brought me right back to Misty at Trailer to the Stars. Misty has produced seven videos for me, and I have contracted for at least three more. When it comes to return on investment, Book Trailers are right up at the top of my must-have list.




Authors, publishers, and speakers are communicators. We must explore all of the ways to do just that. The mere fact that there is such a firestorm surrounding the pros and cons of adding a book video to your marketing arsenal tells you that book videos are big news. Video does bring readers to the written word.





---

---




No Greater Love

by Kathi Macias:

A professional book video does what your cover and back cover copy simply can't . . . it brings your book to life. Your character entices your reader into your story and to the bookstore.

My Son John

by Kathi Macias:

Find out about the new Budget Friendly Book Video Package just introduced at Trailer to the Stars:
http://www.trailertothestars.com/packages.html.

Contact Misty to discuss your book and all that a video can do for your sales: TrailertotheStars@gmail.com.

Watch Trailer to the Stars videos on our YouTube Channel: http://www.YouTube.com/booksinmotion.