REVIEWERS CORNER
This month's focus - SUSPENSE

Featured Reviewer of the Month:
Tim Frankovich consumes books at a ferocious rate and has done so since he was first able to read the written word on his own. Husband, father, youth worker and graphic designer, Tim somehow manages to find time to write reviews about some of the books he reads at ChristianFictionReview.com.
From Tim:
Around five or six years ago, I created my own personal website full of things that interested me. As part of that, I decided to put up some book reviews, since reading is one of my primary hobbies. I wrote reviews of a few of the most recent novels I had read, posted them, and notified a few people in the business - authors and editors. The response was so enthusiastic that I quickly secured a new URL (christianfictionreview.com) and made a separate website. In almost no time, I was getting flooded with new books and requests for reviews.
At that time, there was nothing like it on the web. There were sites that reviewed Christian books in general, but none that focused solely on Christian fiction.
In the years since, the site has grown by leaps and bounds. I have close to 500 reviews in the archive now... that blows my mind. The traffic has grown steadily, and solely by word-of-mouth advertising. I've revised my reviewing style steadily, as well, so that I hope it's informative and helpful in ways that a simple back cover review won't cover.
The only part I hate about all this is that I have to turn down almost 75% of the review offers I get. Books keep piling up and I just can't keep up. If I were able to do this full-time, I'd have one or more reviews up every day... and I probably wouldn't run out of books! But with three kids, a job, and a growing youth ministry project (www.valorministries.net), I can't devote as much time to the site as I'd like.
But even that complaint points to the amazing growth of the Christian fiction market. That growth is also leading to wide diversity and new genre experiments, all of which are very encouraging. Christian fiction is growing and thriving and I'm excited to be a small part of it all.
---
Merciless by Robin Parrish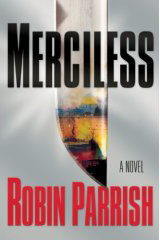 Remember the final scenes of certain super-hero movies this summer? Remember how exciting it was that those scenes hinted at bigger things to come, uniting various heroes under one title, perhaps? As exciting as the movie you had just seen had been, you now were excited about something yet to come.
That's how comic books have worked for decades. Even when a hero defeats a villain, whether it's in one short battle, or an epic storyline that stretched on for months, there's always something more, something to keep you interested, to tease you on... and make you buy the next issue.
Unfortunately, that's also comic books' primary weakness: the story never fully ends. There's no conclusion, no final closure for the characters. Everything just keeps going, bad things just keep happening, villains just keep coming back or escaping from jail... Eventually, it gets too repetitive.
What Robin Parrish has done with the Dominion Trilogy is take the best aspects of comic books and combined them with the best aspects of regular fiction (i.e., novels). And then he has the audacity to link it all into something... Biblical. Wow.
This is not a Christian book in the stereotypical sense. The heroes don't save the world by surrendering their lives to Christ or anything like that. In fact, Parrish has seemingly made a deliberate choice to leave Christ out of it entirely. That statement, taken out of context, is sure to rile some people, but I hope no one would stop reading this review at that exact point. In leaving the cross out of the story, Parrish avoids falling into the easy stereotype of a Christian novel... and also makes some very fascinating points about what happens when that is left out. One character in particular has a very warped perspective about God dating back to Creation and seemingly trying to comprehend God's motives... without the plan of salvation. What he ends up with is chilling indeed. If there's no hope of redemption, why should mankind even exist?
You'll notice I'm not saying a whole lot about the storyline in this review. If you've read the previous two books in this trilogy, you're going to read this one, regardless of what I say. And if you haven't read the previous two, I'm not going to spoil it all by giving away anything here. Go read them all. You're lucky in not having to wait. I'll simply say that this climax is everything you could hope it would be based on the first two books. It left me breathless and, unlike the comic books, it left me fulfilled. It's a beautiful thing. Highly Recommended.
Review by Tim Frankovich at Christian Fiction Review
---
Adam by Ted Dekker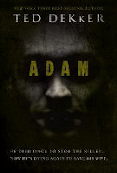 My first introduction to Ted Dekker was the trilogy Black, Red and White. From there, I discovered many other books that stretched my imagination and kept my heart rate pounding page after page. There have been a few books along the way that didn't grab me, but Adam was definitely not in that category! This book is sort of like CSI and Criminal Minds Ted Dekker style. You will actively participate in the search for a serial killer, and you will be shocked several times along the way! My advice? Don't read this right before bedtime!
Ted Dekker loves to explore the dark side of the mind and soul. This book takes you into some pretty uncomfortable places in that regard. For those who travel the journey of life as agnostics or blatant disbelievers, life takes on a level of danger and sometimes even terror that takes them to the lowest pits of human depravity. As in many of Dekker's stories, the forces of evil are just as unbelievable to the agnostic as the power of Christ's redemption. The events that cause them to come face to face with power beyond the scope of human existence are raw and overwhelming. Once the confrontation has ended, the reader is left to their own conclusions as to the final results. Dekker wants your mind and heart to be fully engaged, and he is very, very skillful in that regard.
I wondered at the title – Adam. Ted Dekker isn't one to spell things out for the reader, so it wasn't until I reached pages 291 – 292 that I had a hint of what the title might imply. These words haunted me; "The pain he'd caused her over the years was now visiting him, condensed and purified so that instead of paining his heart through many sleepless nights, it was ravaging him through one week of horror" Isn't that a good synopsis of what sinners did to Christ? We live our lives in sin – for years in open rebellion and disobedience – but during Christ's horrific journey to the cross, into death and in every moment up until the resurrection our sin was "condensed and purified" and placed upon Him. He was, as scripture teaches, the second Adam. He was our complete redemption. So…what about the first Adam?
These are the things you will ponder and experience as you read this story. Your heart-rate will pound, there will be many times you wish you could read with your eyes closed…but hang on for the ride…Ted Dekker has spun another thriller that you won't soon forget! At the end of the story you will still be examining what just happened. You probably won't get all the answers you are seeking, but I think Dekker wants you to keep looking.
Reviewed by Kim Ford at Window To My World
---
Dark Horse By Ralph Reed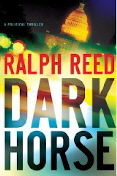 Description:
At the Democratic National Convention in Chicago, California governor Robert Long got robbed.
It's a tight race between Long and Senator Salmon Stanley for the Democratic nomination for president. When Stanley triumphs, Long's delegates walk out, the media has a field day, and Long and his team—including ace political strategist Jay Noble—pack their bags and go home, knowing that whether Stanley fought fair or not, it's the end of the line.
Unless…Would Long consider running as an independent? Independent campaigns of the past, such as those of Ross Perot and Ralph Nader, have been more gesture than threat—but how might the Internet and modern communications technology change that? And are the American people so disgusted at the partisanship and gridlock of the two-party system—in particular, is the right wing so fed up with the Republican Party—that they would vote for an independent? Would Long even be able to get on the ballot in all fifty states?
Review:
Dark Horse is the most powerful novel I've read in the last few years. Gripping doesn't come close to describing it. It reads like a commentary on the news events of 2008. A top advisor to Presidential campaigns, Ralph Reed's insider knowledge of and experience in the political arena is reflected in characters that not only leap off the pages but make you wonder if it's fiction. It is and I want to vote for Bob Long! I recommend you go to Reed's website and look at the photos and his bio.
Amazingly, Dark Horse was outlined 30 years ago for a time such as this: when both political parties have lost the respect they once merited. What we witnessed in the 2008 Democratic primary plays out in Dark Horse: mud-slinging infomercials, delegate controversies, a spy within Long's campaign, and more. I don't want to give away much about the story; you need to read it for yourself.
A potent political thriller, Dark Horse is an eye-opening revelation into the most flagrant problems of the American two-party system. It's a page-turning rollercoaster-ride of a novel—a five star read!
Reviewed by Ane Mulligan at Novel Reviews