REVIEWERS CORNER
Featured Reviewing of the Month - Women's Fiction

One of Carla's greatest delights is finding a new book or an author with a stellar voice that transports her into the fictive dream. She especially like it when those characters become so real to her that she thinks of them as her friends. She began her blog, Carla's Writing Café, as a gathering place to promote great books, talk about writing, and to connect with others who share her passion for books. In addition to the reviews on her blog, she also posts on Amazon and CBD.
Carla Stewart's lifelong pursuit of reading fueled her desire to write her own stories. Some of her first ones were published in Guideposts, Angels on Earth, Saddle Baron, and Blood and Thunder: Musings on the Art of Medicine. Reading across a variety of genres and writing articles helped her learn the craft of writing. She particularly enjoys mysteries and women's fiction, which she often reviews on her blog, Carla's Writing Café. Carla enjoys a good cup of coffee, great books, and weekend getaways with her husband. Her first novel, Chasing Lilacs, releases in June 2010 from FaithWords (Hachette Book Group).
---
Passion of Mary-Margaret by Lisa Samson.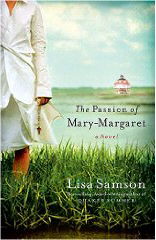 About the Book: When Mary-Margaret Danaher met Jude Keller, the lightkeeper's son, she was studying at convent school on a small island in the Chesapeake Bay. Destined for a life as a religious sister, she nevertheless felt a pull toward Jude—rough and tumble, promiscuous Jude.
After sojourning as a medical missions sister in Swaziland, Mary-Margaret returns to the island to prepare for her final vows. Jude, too, returns to the island, dissolute and hardened. Mary-Margaret can hardly believe it when the Spirit tells her she must marry the troubled boy who befriended her all those years ago, forsaking the only life she ever wanted for a man she knows she'll never love.
My Review: I've long been a fan of Lisa's writing—her quirky characters, everyday situations that capture the imagination with stellar writing that takes you off ordinary paths and delves deep into matters of the holy and the righteous.
The Passion of Mary-Margaret is no exception. As a matter of fact, this may be her best novel so far. Written in a stream-of-consciousness style, the present day account of Sister Mary-Margaret mingles seamlessly with her childhood, her journey of faith, and dedication to Jesus and the Catholic church. You know bits of the future from M-M's journal writings, but only as the story unfolds does the crux of the story take center stage.
How far does one on the verge of taking her final vows go to follow the voice of Jesus? Is the ultimate obedience to the Lord lie in giving up a life service for Him for a higher purpose—to save one lost lamb?
Beautifully written, poetic at times, this book broadens my beliefs about the mystical aspect and sovereignty of Jesus and makes me realize anew how miniscule the human concept of God really is.
Publisher's Weekly gave The Passion of Mary-Margaret a starred review. I couldn't agree more.
Reviewed by Review by Carla Stewart of Carla Stewart.com
---
Home Another Way by Christa Parrish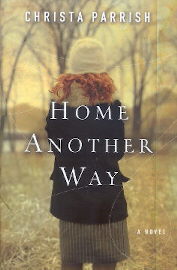 "Sometimes not enough has to be enough." (p. 190)
Sarah Graham is looking for answers that she doesn't realize she is seeking. She arrives in Jonah, New York an angry, bitter, vengeful soul and finds out her estranged father has left instructions that she must remain in the small, mountain town for six months if she is to inherit all that he has left for her. The answers she is seeking come to her through an eclectic group of mountain folk whose lives have been as broken and shattered as Sarah's at different points in time. Through their mercy and loving grace, Sarah learns that "Sometimes not enough has to be enough," and it is with this truth that healing can begin.
Christa Parrish has written a debut novel that is almost painfully beautiful. Her prose is poetic with vivid imagery in some places and abrupt and poignant in others. Her characters are real and rich with humanity and sorrow of life experience. Sarah Graham's character takes you into the mind of a hard-hearted, bitter woman who is determined to prove to the world that she needs no one and that she is perfectly satisfied with herself alone. What she never imagined is that this eclectic group of mountain folk posses something far more satisfying that anything Sarah has ever encountered. Real love. Love that can only be birthed from a God-given faith.
Sarah's six-months among the people of Jonah, New York has a realistic and satisfying ending. While everything isn't neatly tied off into answers, the characters have matured and grown into people even more real and more whole than at the beginning of the story. Lord willing, we will see these dear folk in Christa's writing again someday. This is a phenomenal first novel. A story to be savored and re-visited. This is most excellent!
Reviewed by Kim Ford at Window To My World
---
She Always Wears Red by Angela Hunt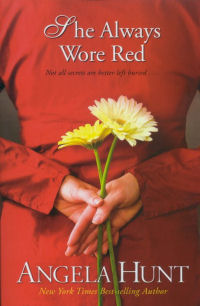 Jennifer Graham has now started to settle down in Mt Dora and in the Fairlawn Funeral Home. She's even started to take embalming classes to help out with the business. However just when she thinks life is quieting down, she meets a newcomer in the town with a startling revelation that changes her life. With this new information, Jennifer vows to help out McLane while her husband is overseas. Meanwhile McLane's father is trying to find her, and bring her back to him. When Jennifer finds out the reasons why McLane left her father, it shakes up her world and her way of thinking.
When reading an Angela Hunt book, one must be prepared for two things. The first is that the reader will be entertained with quirky characters, intriguing plot lines and snappy dialogue. The second is that the reader will come away completely blown away by what they have just finished reading. Their thought process will have changed by the story and one starts seeing things in a whole different light.
It's interesting to note that the publishers decided to change the covers of the series from a light, whimsical feel to a more serious, somber emotion. That's exactly how this second story comes off as compared to the first book in the series. There are so many topics dealt in this book that are still uncomfortable to discuss among Christians these days. Many of these topics we would rather not bring up, yet the author shows how they must be discussed and not hidden away.
The scene that stuck out most to me in this story was during the meal where Jennifer and her mom realize that being "colorblind" is not necessarily the best way to be. This scene really made me think about that statement and what it truly means in today's world. However, while the overall tone of the book is serious, there are still rays of humor sprinkled throughout the book. The double funeral scene is a favorite. One is also allowed to still feel squeamish especially when Jennifer performs her embalming duties. It's a wonderfully written book that's just blends all of these elements together perfectly. This book is a keeper one that you can't put down.
And so I declare this to be the best Angela Hunt book I have EVER read (and I've read them all!) I have high hopes for the third book in the series. VERY highly recommended.
Reviewed by Deb Knuanghlawn at Books, Movies, and Chinese Food
---