For we who call ourselves writers, the dream of being published comes second only to the compelling drive of the writing itself. Our yearning to put words on paper, to fashion stories, and explore truths within the universes of our fiction picks at our subconscious until we do something about it. So we write tales. But at some point we begin to want readers, people willing to step into the worlds we've created. We want to be published.
That very drive impelled me on my journey down the yellow brick road of publishing to a place called PublishAmerica. Like Oz, it's a gleaming city on a hill, beckoning thousands of writers out of the dark forests of manuscript submission where rejections are hurled like apples, out of poppy fields of drowsy confusion where we are tempted to faint and lose heart.
PublishAmerica offers writers not only a chance but also a promise of publication, and therein is the downfall and the primary reason why this publisher has landed on "Predators and Editors" lists, and why so many writers who've gone the "hard" route find it easy to snarl and bare teeth at this monolith of publishing houses, which has been accused of publishing any bit of tripe that comes along.
Still, I too found myself at their door. My experience with PublishAmerica came after receiving what most would consider a "good" rejection. A popular publishing house had given my historical novel a full read, and it had gone on to committee. I felt so close. But it wasn't to be. As is often the case, I fell into a slump and put my manuscript on hold—for about six years. About that time I started looking into other publishing options on the Internet. Unfortunately, at the time I discovered PublishAmerica in 2006, I didn't find any of the negative commentary circulating about them. However, after submitting my manuscript and being offered their standard contract, I felt that I had a pretty clear idea of what I was getting into.
That said, I have not been as disappointed as some of PublishAmerica's authors seem to be. There are pros and cons to signing on with this giant that calls itself a "traditional" publisher. It is traditional in only the most nontraditional, hybrid sense. While traditional publishers put a manuscript through reams of edits and rewrites, PublishAmerica only subjects the work to the most cursory editing, leaving the job of deep editing to the author. As with self-publishing, it is in the author's best interest to hire an editor to scrutinize his or her work for flaws. I stepped into the PublishAmerica process with my eyes wide open, realizing that not only would the editing be largely my responsibility but also the marketing. PublishAmerica can be called traditional in the sense that there are never any charges to the author. The author makes a royalty on books purchased by retailers, online, and through direct orders.
I suspect that much of the despair some authors feel over their treatment at PublishAmerica is due, largely, to their own overly glamorized expectations of book publishing in general. While there
is that top, minuscule percentage of writers who are ushered onto the world stage with book tours and glistening promotional packages, many simply don't realize that the majority of publishing houses expect the authors' involvement in promoting their books. They don't realize that even in the big houses, scads of books are quickly relegated to backlists.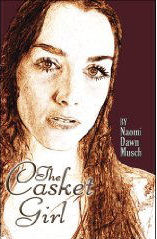 PublishAmerica did make my book available online at sites worldwide. Brick and mortar stores can get it from their distributors. (I even found it on a German site where all the authors shared my last name!) PublishAmerica also helped me arrange for press release information and book announcements to be mailed out.
The biggest accusation against PublishAmerica is that they make their money by selling books to their authors. Traditional publishers usually contract to give a certain number of free books to their authors. Typically, from what I'm told, larger houses will give their authors 100 to 200 copies, which the authors can then use to give away for promotional purposes, or to resell at book signings or other events. Smaller houses may give their authors as few as two to six copies, so you see the great degree of variation. In either scenario, authors can also buy books from their publishers at discounts varying from 30 to 75 percent. This is what also happens at PublishAmerica. Authors are given several copies of their books; they can then can opt to buy more for resale, but are not under obligation to do so. My initial contract offered me a 30 percent discount. However, PublishAmerica offers other opportunities on a regular basis, monthly or even weekly, to acquire copies for as much as 75 percent off retail. I have rarely paid more than 50 percent for a copy of my book, which I have only purchased to resell, setting my own profit margin anywhere from 15 to 50 percent.
As I see it, the biggest downfall with using PublishAmerica is that the POD retail price of the book runs very high. For this reason, I continue to buy discounted books to sell. I can offer a better deal to readers than can be obtained by purchasing books through other outlets. Not only that, I can give myself a better royalty than PublishAmerica can give me. I sell copies of my novel directly from my Web site, www.naomimusch.com, and I find that where it is sometimes difficult to get a POD book shelved in bookstores, gift shops and other non-typical outlets are often very receptive to stocking a few copies.
As changes continue to affect the publishing industry, PublishAmerica remains a viable option for those writers who are able to view the opportunity with care and clarity.