This month I'm highlighting author Jenny B. Jones. I have never read a book that made me laugh as long or as hard as the first book in the Katie Parker series, In Between.
Review: Katie Parker is not happy. Her mom is in prison, and Katie is being shipped off to live with "pretend-o-parents," James and Millie Scott, in the small town of In Between, Texas. When Katie discovers that her new foster dad is a pastor, she is certain they will hate her, so certain she tries to sabotage her time with the Scotts. She figures if things aren't going to work out, she might as well get it over with soon and get back to her old life. Her plan? Dress in Goth for the first day of school. This way she is sure Millie won't let her out of the house, she won't have to go to a new school, and she'll get to go back home. Her plans backfire in a big way. When Millie doesn't overreact, Katie has no other option but to go to school in her black ensemble complete with black fingernails. She ends up sitting at the Goth table at lunch, since that's where she looks to fit in.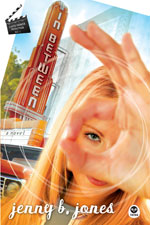 Unfortunately, a couple of her new friends are not the best influence, and Katie unknowingly is recruited for a midnight vandalism jaunt to the local vintage theater. Katie is the only teen nabbed by the coppers, who take her down to the station and inform her that the Scotts are the owners of the theater. Humiliated, Katie waits for her foster parents to send her packing. They don't. Katie experiences some awesome tough love for the first time in her life, which includes being grounded. Unfortunately, that doesn't keep her from riding around with her "pretend-o-grandmother," Mad Maxine, on a bicycle built for two.
Katie struggles to adapt to her new strange world, which includes adults who care, church, smart friends, a massive dog, and a crazy foster grandma. She tries out for the school play and falls for a cute and troublesome senior guy. Her new girlfriend doesn't approve, foster granny doesn't approve, but Katie is of the opinion that what the Scotts don't know won't hurt them. It's a good thing God is watching out for Katie Parker, even though she doesn't have a clue.
Reading this book is like reading stand-up. It's one comical situation after another with Katie Parker, whose fun, sarcastic voice keeps you laughing so hard you'll need a box of tissues. My absolute favorite part is Katie's letters to Iola Smarty, her social worker. The references to David Hasselhoff alone are worth getting a copy of this book. Jones entertains while giving the reader a view of what grace looks like to a teenage girl. This is a wonderful book.
And—what joy!—this is a three-book series. The second book, On the Loose, and the third, The Big Picture, are just as entertaining as book one. And I'm not the only one who thinks so. Women of Faith must have heard of Jenny B. Jones's sense of humor because Jones's next series, A Charmed Life, has the Revolve logo on the front. How cool is that?
Revolve is Women of Faith for teen girls. (I've been to three of their conferences so far and they are awesome! If you've never been, go to www.revolvetour.com and see when the tour bus is coming your way.)
The first book in the Charmed Life series is titled So Not Happening. It's a funny story of Manhattan girl Bella Kirkwood's move to Cow Town, USA. The next Charmed Life novel comes out this November and I can't wait.
For some other books that are sure to tickle your funny bone, check out these:
Hero, Second Class by Mitchell Bonds (Marcher Lord Press, ages sixteen and up) Here's one for the guys. A fun, medieval parody novel that follows apprentice Cyrus on his journey to become a real hero.
Saving Sailor by Renee Riva (RiverOak, ages eight and up) This is a funny, sweet, coming-of-age novel about a Catholic girl who spends her summers at the lake with her endearing, and slightly wacky, family.
Hollywood Nobody by Lisa Samson (NavPress, ages twelve to sixteen) Another quirky girl book about Scotty Dawn, who lives with her food stylist mom in their RV on various movie sets.
Romance Rustlers and Thunderbird Thieves by Sharon Dunn (Kregel, ages sixteen and up) Ruby gets thrown into a hilarious mess of an adventure—complete with a kidnapping—as she tries to solve two mysteries.
Miss Match by Erin Mangum (NavPress, ages sixteen and up) This modern twist on Pride and Prejudice follows Laurie, a chocolate-eating, coffee addict with a knack for matchmaking.
She's Out of Control by Kristin Billerbeck (Thomas Nelson, ages sixteen and up) Ashley has finally found the man she wants to marry, but her commitment-phobe boyfriend seems afraid of the "M" word.