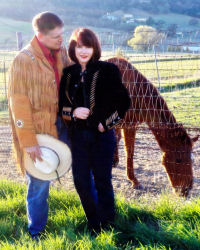 Award-winning novelist Bodie Thoene (pronounced Tay-nee) and her husband, Brock, have written more than forty-five works of historical fiction. Their love for writing spans another generation as sons Jake and Luke now garner their own writing awards. Bodie's writing is her personal offering to God, and each day brings another opportunity to learn and explore the world through the eyes and hearts of her menagerie of fictional characters. Along the way, God is teaching her and blessing her life in abundant ways!
I'll never forget purchasing my first book with Brock and Bodie Thoene's name on the cover. Their stories were the first Christian fiction books I had ever read, and I remember having to eagerly wait for the next book in the Zion Covenant and Zion Chronicles series to be released! These books have long held a prominent place on my bookshelves. The Thoenes were my introduction to fine writing that glorified God, and it was an answer to prayer for someone looking for good, Christian stories to read.
It is my great honor to share with you Bodie Thoene's thoughts about her writing, her family, and the things she is learning as she faithfully writes stories for Christ. I trust you will hear her heart in the words she shares, and pray for her family as they use their talent for God's glory. The Thoenes hold a special place in my heart, and I hope their stories will touch your life as well.
Have you always had a passion for writing? When did you begin to pursue this skill in earnest?
I always loved a good story and always wanted to be a writer. Because I am dyslexic, school was very difficult for me. At the age of nine, in tears because I could not read, I told God that if only He would help me learn to read and write, I would write stories for HIM. I felt His arms around me and knew He had heard my prayer. From that moment, I began the earnest pursuit of writing.
You have had a broad scope of writing experiences, from staff writer for John Wayne's Batjac Productions (1978 to 1983) to working for ABC and to your multitude of published novels and articles! What has been your most memorable writing project?
I have a wonderful memory in every book we have ever written. Those ah-ha moments of discovery, when a writer climbs through the hole in the paper into a new place, are always the best!
Your most meaningful?
The most personally meaningful books we have written are the A.D. Chronicles, because the Lord has opened up many ancient historical insights into Scripture of which we were unaware. The intense biblical and historical research required for these books has changed our lives personally and deepened our faith in ways I never expected.
Your favorite?
My favorite novel is The Gathering Storm because it is the culmination of twenty-five years of work. The ageless character of Eben Golah is the Christian answer to the whole vampire evil that is sweeping through our culture today.
When you married Brock, did you know immediately that you both loved to write?
We both loved books and plays and history, which was a massively strong connection for us. On our first date, we talked the entire time about great literature and theater and music. Hard not to fall in love with a guy like Brock.
Where was the idea of a writing duo born?
Our marriage and writing partnership was a match made in heaven. I was a poli-sci/ journalism major, and Brock was a historian. It just had to happen!
Do you and your husband have defined roles within the writing process each time? Or do your roles change according to the project in which you are currently engaged?
Our roles are very defined and yet we cross into each other's territory every day. Brock researches and studies and finds every detail I need. We discuss together and decide what works. I write and he refines the writing, adding details and description.
Our roles don't really change much. Our favorite research time is our study of Hebrew Scripture, when both of us receive and share from the Holy Spirit.
How did you develop such a love for the history of the Jewish people?
The rebirth of Israel as a nation in 1948 was my first taste of the absolute truth of every prophecy in the Bible. God's promises may take generations to be fulfilled, but He never wavers or changes. Jesus was a Jew. Through the Jewish people and God's covenant with Abraham, Isaac, and Jacob, God has blessed every tribe and nation on earth. Yet, the literal, physical DNA children of Israel remain at the center of God's every scriptural promise. The Devil wants to prove the Bible is false and that God is a liar. For this reason the Jewish people have been hated and hounded and persecuted in every generation. Since we are nearing the return of Yeshua HaMaschiah in our day, I believe Satan is hard at work spreading the same old anti-Semitic hatred of the Jews. It is my prayer that our work can reveal the Jewishness of Jesus and the promises of God to Israel in the biblical covenant made with Israel.
How has this process enriched your own faith?
With every novel we write, the Lord gives us some unexpected treasure that has been hidden beneath the sands of time. Others over the centuries have known these wonderful scriptural truths, but they are often forgotten from one generation to the next. My faith increases with each new book we are blessed to research and write.
How far will the A.D. Chronicles reach?
We have written twelve A.D. Chronicles. Book 12 will be published soon, we hope, but the publisher has not given us a date. We love these stories about Jesus and those who met Him face-to-face. I could go on and on!
Is there a grand finale planned, or are you already working on the next volume?
We have a great surprise in store for our readers coming VERY SOON!
How do you successfully manage more than one writing project at a time?
We love the excitement and ongoing discussions with each of our projects. We are able to work on one storyline and then another because we are never bored and never blocked. We just love the work. It is like preparing and eating a fine banquet.
What is your personal favorite era in time? Why?
I don't have a favorite era. I just love the people . . . I mean, the characters we meet on the journey. I often feel the Lord lets me into the hearts and minds of people who really lived. And who still live in heaven. People never change from one generation to the next. Our work is like climbing into a time machine.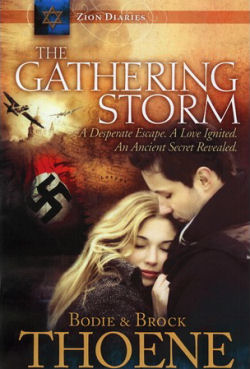 Do you have a fictional character within your own writing that is particularly special to you? Why?
The character of Trudy in the Shiloh books is my grandmother as a young woman. I grew up hearing all her wonderful stories, and I wrote those books when I was about the same age as she was when she lived through the Great Depression. Family members have said I am most like her. I loved her very much, and her stories set the course for my life.
When did you realize that your sons had the same passion for writing? How did you encourage that during their childhood?
We raised our kids in the Sierra mountains. There was no TV or DVDs back then. They were raised on entertainment through imagination and activities on the ranch. When I wrote, which was every day, they grew up hearing Brock read the scenes back to me out loud. I think writing is simply imprinted on their brains. They are better writers than either Brock or I. Luke now also produces audio books and has won three Audies Awards for his productions. He recently won Most Inspirational Fiction Audies Award for his full-on audio book production of Prague Counterpoint, beating The Shack.
Can you tell us about your current writing project?
For twenty-five years readers have been asking us to fill in the WW2 gap between the Zion Covenant novels and the 1948 Zion Chronicles novels. We know that now is the time when this must be done. The Gathering Storm is just the beginning of a series called The Zion Diaries. These novels are first-person accounts of the events of WW2 from both new characters and familiar characters from other series. Our readers seem to be very, very excited about these stories and so are we! The Gathering Storm follows the story of a new American character named Lora Bittick, from Brussels to the beaches of Dunkirk. I won't give away the incredible ending, but it is quite a love story with a huge surprise, which we hope will touch the hearts of many new readers.
Can you tell us what exciting things are taking place for the Shiloh Light Foundation? How did that come into being?
Because I am dyslexic and Jake is also, we listened to a lot of audio books, which were not the highest quality. We felt people who are learning disabled or blind deserve much better, so we asked God how we could make this happen. Luke got his degree in media in London and worked with top British talent. Shiloh Light Foundation is small and very focused, providing the best audio books for those who need them most.
In the print media, Shiloh Light Foundation continues to send books and audios out to military and especially to ship's libraries and those who are victims of natural disasters. We have shipped over 200,000 books. Luke is constantly working on audio productions for those who are visually impaired. We want those audio productions to be the best in the world so that someone who is blind or unable to read can feel they have entered the time machine and lived among the sounds and sights of a different time and place. Because Luke's productions are Audies Award winners, we call these audio books Movies for the Mind. These are available at www.FamilyAudioLibrary.com.
What words of encouragement would you like to share with your readers?
The Lord loves you with a faithful, unchanging, eternal love. Like Jefferson says in the novel In My Father's House, "Lay in HIS ARMS LIKE A BABY. Feel His love!"
Psalm 91 is a firm truth for you.
Rest in Him, dear friend. Jesus has got your life and the lives of your loved ones all wrapped up in love. He will walk beside you clear to the end of this road, and He'll be waiting where the road to eternity will begin for you!
---

---
Kim Ford has been a resident of Alabama for more than ten years. Originally from Georgia, she holds a Bachelor's degree in English from Brenau Women's College. She has spent the past 9 years in sales and marketing and has been an avid reader of Christian Fiction for more than 20 years. A mother of two teen sons and married to a technical writer and Army veteran, Kim's life is full and blessed. She and her husband also volunteer as teachers for a resident rehab program for women with life-controlling issues. She uses her fiction to encourage the ladies she teaches. She blogs at: Window To My World