Kelly Klepfer came on board Novel Reviews several years ago as the Senior Editor through her connections with Gina Holmes, Ane Mulligan and Jessica Dotta of Novel Journey fame. Novel Reviews is the baby sister of the popular Novel Journey. At Novel Reviews we offer honest reviews of Christian and secular fiction titles and love to promote exceptional fiction. We began to do so after we met the authors via their interviews at Novel Journey. Disclaimer: Our reviewers are not paid for their reviews. Some may consider the receiving of a complimentary book or loosley bound manuscript (by publisher or author), as a form of compensation, so, be forewarned that our reviewers RECEIVE BOOKS. In our defense, it would be difficult to review without them. (Also, we are not affiliated or paid for any links to online bookstores.)


NOVEL REVIEWS CORNER
---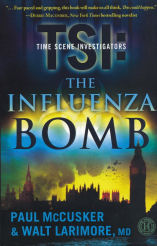 The Influenza Bomb
by Paul McCusker and Walt Larimore M.D.
Published by Howard Books
ISBN# 978-1416569756
448 Pages
Back Cover:
Siberian hospitals are overrun with what looks like the Spanish Flu of 1918. When Dr. Susan Hutchinson arrives, she learns that the outbreak began when the missing Professor Weigel had a run-in with an ecoterrorist group called Return to Earth. In a race against time, can she stop them before they destroy all of mankind?
Review:
We first met Mark Carlson and the TSI team (Time Scene Investigators) in the Gabon Virus. If you haven't read this prequel to the Influenza Bomb, stop, step away from the Bomb book and click on the link below to order it. It is a fast paced thriller. That however is an entirely different review.
Assuming now that you are up to speed and have invested a sleepless night blistering through the pages of the Gabon Virus, let me tell you about the next treat in store for you from the word processors of Paul McCusker and Walt Larimore M.D.
The TSI Team and the WHO (World Health Organization) still haven't fully recovered from their wrenching battle with the diabolical Return to Earth terrorist organization, whose goal is to eliminate all human life on the planet, expect maybe them. You know.
Susan Hutchinson, with WHO is call to Siberia when another illness begins killing thousands, suddenly, by what is soon identified as another terrorist attack with global, pandemic repercussions.
Personally I loved this book as much as the first in the series, and couldn't put it down for long. It is hard charging and suspense filled with characters that have depth that you care about. Obviously there is a Time Scene involved with the story, and in this case we get to travel back to WWI on through WWII, where the Nazi leaders were experimenting with and launching germ warfare attacks against the Allied Armies. The historic recreations are realistic. You find yourself running to the computer to look up aspects. It is a fascinating work of fiction that involves Nazi hideouts, dastardly villains and new technology taken to frightening levels of abuse. I loved it!
Reviewed by: Fred St. Laurant at: "The Book Club Network"
Bonus Review:
Can you say whirlwind? This is the fastest that I have read a book in a long time, especially with AppleBlossom running around (yes that's right, my barely ten month old daughter is running...). I could not turn the pages fast enough. I could not find enough time to sit and read as long and as much as I craved to. Every time line, every plot was bam bam bam, give me more!!
Last August, I was able to experience the first book in the TSI (Time Scene Investigators) series The Gabon Virus: A Novel. I knew then that I wanted more and I was not disappointed with this second novel in The Influenza Bomb: A Novel. I was on the edge of my seat turning the page. I was terrified and excited. The characters are real and the enemies true evil, but perfectly appropriate to the mentalities of the world today in both our history and future.
Through out the story I was able to delve down deeply into conspiracies and myth surround the first and second Great World Wars as well as Hitler and his Nazi regime. The facts were fascinating and it was incredible how this team of authors worked the mystery into the medical drama. Without giving anything away, I'm sputtering for speech.
All and all, the best word for it, Love. I love this book, I love this series and I want more!
Reviewed by: Margaret Chind at: "Creative Madness"
---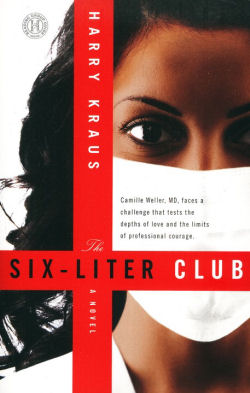 The Six-Liter Club
by Harry Kraus, M.D.
Published by Howard Books, April, 2010
ISBN: 978-1-4165-7797-3
Description:
In 1983, Dr. Camille Weller is the first black woman to attain the status of attending staff at Medical College of Virginia. She is gritty, assertive, and used to excelling over her male colleagues. A trauma surgeon, Camille enters the prestigious Six-Liter Club on her first day on the job. A sparsely populated "club," the Six-Liter Club is a group of surgeons who have managed to save a patient who sheds an overwhelming six liters of blood.
Given her groundbreaking status, work is challenging enough for Camille, but her private life is even more complicated. Born in Africa and orphaned as a young child, Camille was raised by a white aunt in the South. She is troubled by flashbacks from her youth, growing up in the Congo as a child of an American missionary and a Congolese mother. After a counselor mistakenly convinces Camille that her father abused her as a child, she must learn how to find the truth and accept the faith of her father.
Review:

Harry Kraus has plumbed the depths of the female psyche, making Camille Weller a credible and memorable character in his sophomore novel, The Six-Liter Club. A fresh voice in fiction, Harry doesn't overpower the story with an excess of medical jargon. I never felt lost or like I was standing on the outside looking in.
His protagonist, Camille, is faced with professional prejudice, both gender and color, and is tired of going along with "the boys." Making her life more complicated are the nightmares and flashbacks that plague her, and she worries the stress of her job is affecting her sanity. Throw in a love interest and a few surprises I never saw coming, The Six-Liter Club is a great read. I give it a high recommendation.
Reviewed by: Ane Mulligan at: Ane Mulligan.com
Editor at: Novel Journey
Bonus Review
I must admit that I went into reading this with slight trepidation. In my mind I basically dared Harry to "Make my day." How dare he try to write a book from an African American woman's point of view, especially since I am one!
Well preconceived notion or not, I was blown away by Six-Liter Club! Harry channeled all of the emotions and angst of a woman in that position, into a cohesive and fast moving story. Camille Weller rang true as a person placed in those difficult circumstances, and many of the emotions she felt, I have also experienced.
The story is a fast-paced easy read of a medical community without all the tongue-twisting medical references that could slow you down. I thoroughly enjoyed this book and look forward to his next.
Reviewed by: Bonnie S. Calhoun at: Bonnie Writes

---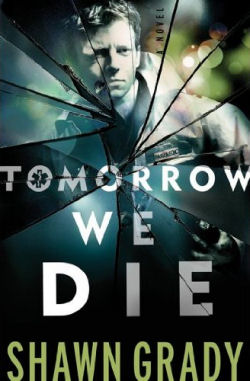 Tomorrow We Die
by Shawn Grady
Paperback: 336 pages
Publisher: Bethany House (July 1, 2010)
Language: English
ISBN-10: 076420596X
Book Description:
Chase the Angel of Death and You Might Catch Him
Jonathan Trestle is a paramedic who's spent the week a few steps behind the angel of death. When he responds to a call about a man sprawled on a downtown sidewalk, Trestle isn't about to lose another victim. CPR revives the man long enough for him to hand Trestle a crumpled piece of paper and say, "Give this to Martin," before being taken to the hospital.
The note is a series of dashes and haphazard scribbles. Trestle tries to follow up with the patient later, but at the ICU he learns the man awoke, pulled out his IVs, and vanished, leaving only a single key behind. With the simple decision to honor a dying man's last wish, Jonathan tracks the key to a nearby motel where he finds the man again--this time not just dead but murdered. Unwilling to just let it drop, Jonathan is plunged into a mystery that soon threatens not only his dreams for the future but maybe even his life. He must race for the truth before the Angel of Death comes calling for him.
If you would like to read the first chapter of Tomorrow We Die, go HERE.
Review:
Shawn Grady's sophomore release shows great talent. I did not read his first book so I can't compare the two, but I plan to go back and pick it up based on what I read in Tomorrow We Die. I work in the medical field and am fascinated with the human body and its workings and Grady's EMT training has given him lots of details to provide. Tomorrow We Die is a fast read weighing in at around 200 pages (not sure of final count as I read an Advanced Reader Copy provided by the publisher). Plenty of action and emotional tension join with the medical jargon making the novel a page turner.
Readers who like twists and turns, medical fiction and first person narratives told well should enjoy examining Grady's novels. The end resolved quickly and there were a few predictable moments for me, but Grady's writing is strong overall and his characters are compelling enough to overcome a few minor irritations. Some details may give chickens the willies so be forewarned.
Reviewed by: Kelly Klepfer at: "Scrambled Dregs"
Bonus Review:
Shawn Grady's second novel Tomorrow We Die, is just as gripping, eye opening, and realistic as the Through the Fire. Shawn takes the reader into an EMT's world the way no one else can. He's been a firefighter and EMT in the Reno area for years. I'm thankful I received a review copy of this suspenseful, action packed story that made me realize how hard EMT's work and how much they sacrifice, day-in and day-out.
Jonathan works as an EMT as he awaits news of a scholarship. He dreams of being a Doctor. EMT's have demanding, dangerous jobs but Jonathan knows this is the first step to becoming a Doctor. He also realizes he can't save everyone. That was the rub.
Jonathan tries to save Simon Letell's, life. He asks for a favor. Puts a piece of paper in his hand and says, "Give this to Martin." Then passes out, what did that mean? Who's Martin? Simon is rushed to ER. Jonathon checks on Simon later to learn more about the crazy note. It didn't make sense. How would he find Martin? The mystery gets more complicated when Jonathan discovers Simon's gone AWOL. He was near death's doors just this morning he couldn't have gone far. How to find Simon and Martin? Aha, the million dollar question.
I was spell bound as I read this gripping, suspenseful mystery. I grew to like Jonathan and was intrigued by the challenges he faced. I hadn't realized how hard EMT's work and how they have to think on their feet just like Firefighters. What worked in the classroom doesn't always mean it will work in the field with its less than perfect circumstances and drama. A split second decision in the field can mean life or death to a patient and to themselves.
I've started to look at Firefighters and EMTS in a whole new light thanks to Shawn Grady's realistic, complex characters and the insider details he gives these stories nobody likes to talk about. I can't wait to see where Shawn takes us next.
Reviewed by: Nora St. Laurant, ACFW Book Club Coordinator at: Finding Hope
---

---