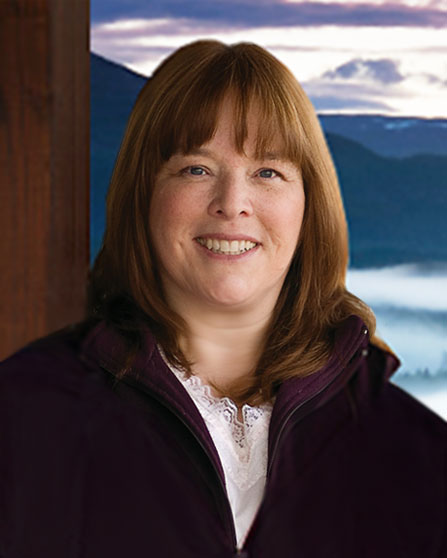 "I don't know a single person who hasn't been able to find themselves between the pages of a book. Relationships are critical to human survival and the stories allow me to share encouragement and insight that God has given me over the years." These words, shared from Tracie Peterson's heart reflect the soul of her 19-year writing career. With many fiction, non-fiction and stand alone novels composing her award-winning collection of stories, readers are sure to connect with both Tracie and her characters. Tracie's heart is led to share encouragement and hope amid the struggles of daily life.
Tracie, you have written both fiction and nonfiction, with over eighty-five books in print at this point. Can you briefly tell us about the beginning of your writing career?
I've loved writing most of my life, but my career in publishing started with a few small articles in Sunday school take-home papers, magazines, and a regular column for a Christian newspaper. Nevertheless, writing books was what was on my heart and mind. I sent out letters by the dozens asking publishing houses for guidelines. In one of those letters to Barbour Publishing, I mentioned that I had a complete manuscript ready and desired to write historical Christian romance. In October of 1992 I got a call from Stephen Reginald, who was heading up the Heartsong Presents book club. Historical Christian romance was exactly what they were preparing to publish. One thing lead to another, and a few weeks later I had my first book contract. A Place to Belong came out in 1993. I later worked in freelance acquisitions for Barbour Publishing, and then my company, Peterson Ink, Inc., managed the entire line
for about three years. Now I focus on writing and speaking and have an exclusive contract with Bethany/Baker.
Your Website states that writing is your ministry. Has that been the foundation of your writing career? How did God orchestrate that calling into your life?
I accepted Jesus at the tender age of six. I always knew that I wanted to serve God and truly thought it would probably be in missions or the medical field. I was a good student, and writing was always important to me. As I grew older I realized that writing could be something important in ministry work, but I wasn't sure how God would use it. As an adult I read Eugenia Price and Catherine Marshall and thought how this was what I would like to do: tell stories of everyday life and share Bible application and the gospel message. Christian fiction wasn't a viable option in the '70s when I really thought about writing, so I toyed with other genres, but God always had a plan, and thankfully I listened to His voice.
The majority of your books are historical fiction series. What draws you to this genre?
I have always loved history. My favorite television shows or books were those set in historical time periods. I was an avid reader as a child and loved the classics. Even at the age of ten I was reading Jane Austen, Charles Dickens, the Brontes, and others. I read Gone with the Wind at the age of twelve and fell in love with everything about it. God has a great sense of humor in that He gave me a husband who has a passion for history, as well. Together we research and learn about the culture and people of the past. It's wonderful to have this in our marriage. What's really neat is that the more I study and look into the past the more I realize things are the same. People still suffer from the same problems that tormented our ancestors. Parents had trouble with their children, young married folks fought and struggled to understand marriage, and people were always looking for spiritual insight. Makes for great stories.
Many of your stories are deeply rooted in family relationships. How has family molded and shaped you in regard to your writing?
I've endured my share of family problems over the years, as well as walked the road with many a friend who was struggling. Family relationships are critical to all of us—no matter who we are or where we've come from. I don't know a single person who hasn't been able to find themselves between the pages of a book. Relationships are critical to human survival and the stories allow me to share encouragement and insight that God has given me over the years. The stories also allow me to share the humorous and lighter side of family, which is also a powerful tool for ministry.
You must have multiple projects in the works all the time. How do you balance your simultaneous stories? Is there a method to the madness?
Flexibility is my superpower and a blessing from the Lord. I know there are authors who need to be in the same chair, at the same computer in order to write. I can write just about anywhere and have. I'm extremely organized when it comes to my writing, however. I believe firmly in plotting a story and writing a detailed chapter-by-chapter synopsis, which is my road map and helps me to keep from dropping characters, plot issues, and spiritual development issues. I also write even when I don't feel like writing. I don't wait for some mystical muse to come upon me. I love what I do and cherish the opportunity to minister through writing, but it is a job I take very seriously.
You also love to teach and speak at writing conferences. How does this influence your writing? Do you ever stumble across ideas for stories at these venues?
I do love to teach at writing conferences, especially for newbie writers. I love the excitement that can be found in the new author. I like that they are usually so willing to learn. The basics are important for all writers—even the seasoned—and I find it useful to refresh my own mind on the issues at hand. As far as ideas for stories at these venues, that generally isn't a place that works for me to glean ideas. I want to be extremely careful never to take on the elements of someone else's story, for one thing; but for another, when I'm teaching I want to focus on the authors and their particular needs. I do better at finding stories on research trips or during quiet times of reading nonfiction.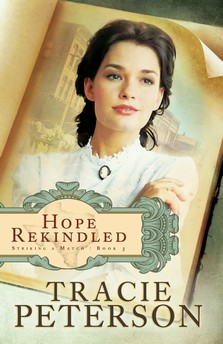 What is your favorite part of the writing process? Why?
That's a hard one. I love most of the process. Research is a great deal of fun because I get to see new places, read and learn about other people and times, and share it all with my husband, Jim. I love the plotting and brainstorming, and of course I love to sit down and write. It's an amazing experience all the way around.
Tell us about your most recent publication. Why does it excite you?
In May the third book in the Striking a Match series, Hope Rekindled, came out. This was the conclusion of the series, and my readers were eager for it. I was fortunate enough to be on book tour to promote its release and found it to be a very special time. And by the time this article goes to press, House of Secrets, a stand-alone contemporary, will be out. I'm passionate about this book for several reasons. It is about three adult sisters who are dealing with having grown up with a schizophrenic mother. I wanted to offer the reader something that would cause them to think about mental health issues and how we as Christians deal with those in our churches, neighborhoods, and families who suffer from these problems.
What's next?
House of Secrets will be hot off the press in August 2011. In September Judith Miller and I will debut a brand-new series titled Bridal Veil Island. Book one, To Have and to Hold, is set on a fictional island off the coast of Georgia. Judy and I had great fun researching this project in Savannah and on Jekyll Island, Georgia. Three books will be in the series, but each stands completely alone.
Your daughter recently graduated from Harvard! You must be very proud! Do any of your children share your love of writing?
All of my children enjoy writing. Jennifer, the Harvard graduate, has a couple of books to her credit that she wrote in her teens, and she freelance edits for a variety of publishing houses. She has her own manuscript service, as well. My daughter Julie loves to write and journals constantly about her trials with a chronically ill child. Erik rounds out the group with a great imagination for words and music. I fully expect him to one day produce a book.
What is the most exciting thing God has done for you and through your writing career?
God has done so many amazing things through this ministry. He has blessed me and my family in many physical and spiritual ways. Through my writing we were able to move to Montana and enjoy this gorgeous setting, as well as visit places all over the world. God has also shown me the blessing of seeing the fruit of His Word. I believe one of the most amazing things God has done for me personally is to grow my faith through my writing, and draw me closer to Him as I see how He draws the readers closer to Him through the stories. I couldn't ask for anything more.
What words of encouragement would you like to share with your readers?
I would like to thank the readers first and foremost for their encouragement and letters. I'm always blessed to hear from them and love to know how God has used the books to touch their lives. Sometimes God speaks to us through a person, a song, His creation, a book, or a letter, but no matter where He meets you, God is consistently faithful, abundant in His blessings, and always forgiving. My prayer is that each of you would draw closer to Him.
---

---
Kim Ford has been a resident of Alabama for more than ten years. Originally from Georgia, she holds a Bachelor's degree in English from Brenau Women's College. She has spent the past 9 years in sales and marketing and has been an avid reader of Christian Fiction for more than 20 years. A mother of two teen sons and married to a technical writer and Army veteran, Kim's life is full and blessed. She and her husband also volunteer as teachers for a resident rehab program for women with life-controlling issues. She uses her fiction to encourage the ladies she teaches. She blogs at: Window To My World