Kelly Klepfer came on board Novel Reviews several years ago as the Senior Editor through her connections with Gina Holmes, Ane Mulligan and Jessica Dotta of Novel Journey fame. Novel Reviews is the baby sister of the popular Novel Journey. At Novel Reviews we offer honest reviews of Christian and secular fiction titles and love to promote exceptional fiction. We began to do so after we met the authors via their interviews at Novel Journey. Disclaimer: Our reviewers are not paid for their reviews. Some may consider the receiving of a complimentary book or loosley bound manuscript (by publisher or author), as a form of compensation, so, be forewarned that our reviewers RECEIVE BOOKS. In our defense, it would be difficult to review without them. (Also, we are not affiliated or paid for any links to online bookstores.)


NOVEL REVIEWS CORNER
---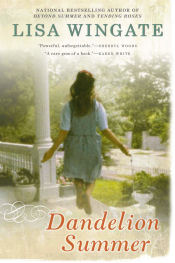 Dandelion Summer (Blue Sky Hill Series)
by Lisa Wingate
Paperback: 416 pages
Publisher: NAL Trade; Reprint edition (July 5, 2011)
Language: English
ISBN-10: 0451233271
Description
The latest in the inspirational and heartwarming Blue Sky Hill series from Lisa Wingate.
All her life, Epiphany Salerno has been tossed like a dandelion seed on the wind. Now, at sixteen, she must move to the low-rent side of Blue Sky Hill and work where she's not wanted: in an upscale home on The Hill.
J. Norman Alvord's daughter has hired a teenager to stay with him in the afternoons. Widowed and suffering from heart trouble, Norman wants to be left alone. But in Epie's presence, Norman discovers a mystery- memories of another life and a woman who saved him. As he and Epie take an unexpected road trip through sleepy Southern towns, they form a life-changing friendship-and uncover long-held family secrets.
Review:
Dandelion Summer revolves around a sixteen year old girl named Epiphany, who has had an unfulfilling life with a mother who seems to care nothing for her. The story also involves J. Norman Alvord, a widowed man with a bad heart. He has a poor relationship with his daughter, Deborah, whom he feels is trying to take everything away from him due to his recurring heart problems. Deborah hires Epiphany to come work a few nights a week to keep an eye on her father. An unlikely pair, Epiphany and J. Norm form a friendship, as Epiphany takes an interest, not only in J. Norman's previous work with NASA, but with his hunt for what he thinks is his real family that he might have been separated from at a young age.
I really, really enjoyed this book. One wouldn't expect J. Norman and Epiphany to find common ground, but their friendship changes each of their lives forever. J. Norman teaches Epiphany that she is a smart, beautiful young woman who shouldn't have to settle for the life she is currently living. Epiphany, in turns, teaches J. Norman how to love again. It's such a wonderful book, and it keeps you in suspense. I would love to see a sequel written!
Reviewed by: Sarah Porter
---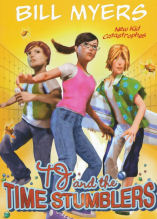 TJ And The Time Stumblers
by Bill Myers
Published by Tyndale
ISBN# 978-1-4143-3453-0
182 Pages
Description:

This six-book series centers around two 23rd century goofballs, Tuna and Herby, who travel back in time to study TJ Finkelstein for their history project. TJ will someday become a great leader who demonstrates honesty, integrity, thoughtfulness, self-sacrifice, respect for others—all traits she hones and grasps through her adventures in this series. Unfortunately, Tuna and Herby get stuck in TJ's time (modern day), so she has to deal with their schemes while juggling the normal issues of a seventh grader who has moved to a new city, is trying to fit in, and is coping with her mother's death and her family's new life.
In New Kid Catastrophes, TJ accidentally makes an enemy of Hesper Breakahart, the superstar who attends their school. And Tuna and Herby's attempts to help just lead to one disaster after another. In the end, TJ is still very unpopular, but she learns the value of looking past appearances and gains a few friends—and the attention of the most popular boy in school.
Review:

I'm a huge Bill Myers fan. When an opportunity came about to receive a review copy of his new children's series I quickly signed up. My two boys and I have benefited from reading other children's series by this author and I couldn't wait to read this new series. We loved the action packed, funny adventures in theses book with great messages I appreciated. The quality of his new series is no different!
TJ Finkelstein's family has moved from a small town in Missouri to Malibu, California, madness! TJ sees that Malibu Jr. High has some of the richest, snobbiest kids ever. She was the new kid on the block and in the school! Yikes!
One amazing thing was she lived next to the dreamiest boy, Chad Steel. Just so happens his girlfriend is Hesper Breakahart, T.V. Super star, miss popular! He'd never notice TJ or would he after the alien's arrive?
TJ's life was different but not impossible until two male aliens from the 23rd century traveled back in time to break down near her house. TJ Finkelstein is stuck with these two male aliens until they fixed their ship and could leave. They couldn't leave fast enough for TJ, she couldn't keep this secret from everyone including her immediate family. Living was traumatic enough without two alien guys following her around all day using their cloaking devices so only TJ could see them. Lucky her!
This is book one in the series. I loved it! This series is geared for kids 8-12 and reminded me of two movies, Star Trek and the three stooges mixed together. This book had the three stooges slap-stick well timed humor along with Star Trek the next generation space toys and wild adventures. It took me away from the cares of this world and made me laugh and I could see the principles Bill Myers is trying to have the youth catch! Kids will be so caught up in the story drama and believable characters they won't realize they are learning valuable character building morals along the way. It also challenges the reader to take a look at their lives and the choices they are making! It can be ok to do the right thing! I highly recommend this new series to anyone who wants to have fun and learn a thing or two along the way.
Reviewed by: Nora St.Laurent at: The Book Club Network
---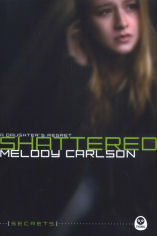 Shattered
by Melody Carlson
Published by: NavPress
ISBN: 978-1-60006-949-9
208 Pages
Description:

Everybody does it—sneaks out of the house now and then. It's harmless enough, right? Not this time. Cleo Neilson faces the chilling consequences of her actions. Now she has a secret and can't tell anyone, and it's breaking her heart. As Cleo fights through her grief and guilt, she learns about faith in God and forgiveness through him. As teenage girls read Cleo's journey, they too will learn the value of having faith and receiving forgiveness as well as just how dangerous it really is to keep a secret.
Every teenage girl has a secret. And every teenage girl loves hearing someone else's secret. But some secrets are big enough to detour, derail, or even destroy a young person's life. Each of Melody Carlson's Secrets novels will propel readers into a world where promises are broken, life is not fair, and challenges can make or break them, while ultimately helping readers discover that solid faith, loyal friends, and a persistent spirit will see them through.
Review:

I have loved Melody Carlson since I read her Diary of A Teenage Girl Series, and she's one of my favorite authors. She wrote the True Color series, which is another one of my favorites. When my mom asked me if I wanted to review this new book in Melody Carlson's new series, I jumped on the opportunity.
This book is about Cleo and a lie she tells to her mother that completely shatters her from the inside out. I liked the surprising turns that this book took. I thought I had this book pegged when I first started reading it (because I always read the ending first!!) but Melody threw me a couple curve balls during the story.
Shattered was a quick read. I read it in a couple of hours, but thoroughly enjoyed it. I cared for Cleo and everything she went through. I related with a lot of the feelings she had in the book about her mother, and the guilt she felt for keeping secrets. I think the Secrets series is a great thing that Melody is doing.
Secrets can tear any teenager, or adult, apart. They will eat you from the inside out. It's amazing the way that Melody delves into the mind of Cleo and how she tries to not think about everything that's happening around her. She has a mentality that if she doesn't feel it, it's not really happening. It was very interesting watching all the puzzle pieces fall into place.
This book could have taken a lot of turns, and I appreciate the turns that it took. I wish the book had been longer, maybe more in depth and that her kind-of "break down" had been more intense. But I know she probably had a page limit, and it's probably just that "soap-opera" side of me kicking in. :D
You will absolutely love this book; it deals with a couple of tough issues in a great way. If you're looking for a fast, but deep and enjoyable read check out Shattered by Melody Carlson. You won't regret it!!
Reviewed by: Hilary St.Laurent at: Where You Go From Here
---

---