REVIEWERS CORNER
Featured Reviewer - Sally DiStephano Featured Reviewing of the Month - Contemporary

One of the nicest things that my mother gave me was the love of reading. She was an avid reader and took her children to the library every Saturday. When I was five years old, she helped me fill out the form so that I could have my own library card; I was so proud! At one time, I had read every book in our local library in my age category. Reading has always ranked as my number one favorite hobby.
When I retired from teaching high school English, it seemed a natural fit for me to begin to keep track of whatever I read. I set up my blog and began to write a short summary of my thoughts each time I finished a book. Soon I became an official book reviewer. I love reviewing because I choose only those titles that I believe I will enjoy. In the beginning, it was like a child in a candy shop; I requested too many titles and ended up scheduling a gruesome nineteen novels to be read and reviewed in one month! I've learned my lesson well, though, and now carefully schedule only a few select titles each month.
---
Things Worth Remembering by Jackina Stark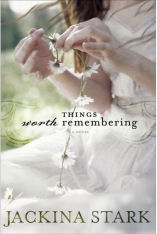 This is the second novel I've read by this author, and she is fast becoming one of my favorites. I got my review copy from Bethany House. If I had to describe the writing style of Jackina Stark in one word, it would be "tenderhearted." She manages to tell a deeply profound story with a delicate pen.
Relationships between mothers and grown daughters are complex, but the one depicted in this Christian fiction has the reader searching for clues as what could have caused their once-close relationship to crumble. The reader quickly discovers that there is a gulf between this mother and child.
Written in first person narrative in the voices of these two main characters: Kendy, the mother, who strives to regain the closeness she once enjoyed with her now grown daughter, and Maizey, the daughter who rebuffs all efforts to spend any alone time with her mother. As Maizey's wedding day approaches, memories surface that help shed light on the breach of that fateful summer.
The plot moves at a steady pace, urging the reader to read on--this is a hard book to put down. Characters are well rounded--flawed--believable. I found myself relating to both mother and daughter. Even secondary characters are fleshed out such that the reader can understand their motivations. I thoroughly enjoyed the novel and its theme of love and forgiveness. I trust that you will too.
Reviewed by Sally DiStephano of Book Critiques
---
A Slow Burn by Mary DeMuth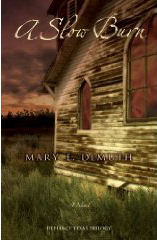 "His arm is long. His reach stretches into the most wretched places." (p.209)
Mary E. DeMuth's novel, A Slow Burn, carries the reader into the most wretched places of a depraved woman's life. Emory Chance, an addict and a neglectful mother, is reeling from the news that her beloved daughter Daisy has been murdered. The residents of Defiance, Texas mourn with Emory, but they mourn from a distance because they don't know how to reach out to a woman whose addiction to drugs holds her in its hellish grasp. Hixon Jones is obedient to God's voice, and even though he doesn't understand the command, he reaches out to Emory despite her angry efforts to push him away. As Daisy's killer roams the streets of Defiance, Hixon has vowed to protect Emory, no matter the cost.
Emory Chance is a character in fiction that takes the reader into the depths of drug-addicted depravity. No matter who reaches out to her, no matter who offers friendship, forgiveness and grace, Emory pushes them all aside for one more hit of dope. Wallowing in the grief of regret following Daisy's death, she seems helpless to do anything other than listen to the hellish voices of her past – the voices that tell her how worthless, how hopeless, how utterly unworthy she is to even draw another breath.
Yet God sends the most unlikely parade of people into Emory's life to share another message with her shattered heart. Hixon, Muriel, Ouisie, Big Earl, and even Jed and Susie play a part in reaching out to Emory in the face of the darkest night of the soul you can imagine. Truly, God's reach extends much further than any of us can fathom, and A SlowBurn paints a beautiful, albeit a sometimes disturbing picture, of what it means to become an adopted child of the King of Kings.
Dear reader, if you want to read a story of true love, of grace, mercy, sacrifice and restoration, please, read Mary DeMuth's Defiance, Texas trilogy. Daisy Chain and A Slow Burn are the first two novels in the series, and are beautifully written stories that trumpet the message of God's grace and create believable characters whose lives will touch your heart for a very long time. Be prepared to laugh, to mourn, to cry as you read these stories, and more importantly, be prepared for your heart to be challenged and changed with the message of grace.
I cannot recommend these books highly enough. Amazing! I eagerly await the final book in this powerful trilogy!
Reviewed by Kim Ford at Window To My World
---
Seeing Things by Patti Hill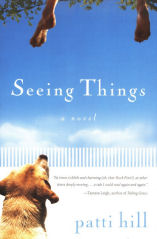 Synposis
Birdie Wainwright, 72, isn't concerned about seeing things that others can't. For a woman who still climbs mountains with her dog (Miss Bee Haven) and likes to tango, the impractical visions brought on by macular degeneration are just another gift from God, adding more adventure to life. But when a tumble down the stairs breaks her ankle and leads back to her son's home in Denver where she must convalesce, Birdie's imagination really takes flight. Following a conversation with her grandson about The Adventures of Huckleberry Finn, she begins to see and speak with the unkempt literary character himself on a regular basis. As the line between reality and whimsy turns brittle, faith is tested among friends and loved ones, and hope is reborn.
My Take:
Who hasn't had an imaginary friend that used to talk to when they were little? Even now, sometimes the characters you create in your head are better company to keep than the real people you have to interact with on a daily basis. That's what life is like for Birdie as she finds that it's easier to communicate with Huckleberry Finn than with her son and his wife. That is a literary character that would be great to have a conversation with. I love how their conversations mostly consist of Birdie being able to confide and share her thoughts with Huck just sitting there listening. It's the best situation ever!
I found the relationship between Birdie and her son and his family to very interesting to the story. I felt that this relationship is the epitome of elderly parents and their children who aren't sure how to take care of them. Their reactions and attitudes towards each other were very realistic and it touches at the heart for those who have been in this situation. What I liked best was how the author portrayed Birdie. She's not shown as a cranky elderly person who thinks that her way is the best way. She loves her grandson very much and wants to make everything right for him. Her relationship with her son is rocky and is even more so with his wife. However she tries to do her best to keep the peace even though it's very difficult for her.
My only complaint is that it's very slow for about halfway through the book. It takes a while to really get into the story. It's not boring, there's just a lot of that you have to see through Birdie's eyes first before delving deeper. This book is not a fast read, but it's one to savor. I feel that it will touch many readers and pull some heartstrings. Perfect for a lazy fall's day.
Reviewed by Deborah Khuanghlawn at Books, MOVIES, and CHINESE FOOD
---