REVIEWERS CORNER
Featured Reviewer of the Month - ROMANCE:

Kim Peterson reviews for traditional print markets including CBA Retailers+Resources (which serves Christian bookstores) and Salem Press, a division of EBSCO Publishing, which services academic libraries. Everyone asks her when she's going to start a blog for all the books she reads and reviews. "As soon as I can find the time and can think of a good name for a blog." Kim figures 2009 will be the year. She received a large bookshelf for her birthday and Christmas. "Now I have a place to put all those piles of books that threaten to take over our home."
Kim has been an avid reader for as long as she can remember. "My mom made reading a priority. She surrounded me with books. For a few years, we lived in a small Kansas town and I can remember her walking with me to the library after work. When my morning chores were finished, she let me disappear up our cherry trees with a good book and a thermos of juice. I don't climb trees to read any more, but I can still disappear into a great story."
Associate Faculty and Writer-at-Large for Bethel College in Mishawaka, Indiana, Kim has taught writing for 16 years. This school year Kim teaches courses online from Tennessee and concentrates on her writing. "I have several novels started and my goal is to hammer out a full first draft of one of them by the end of this spring semester."
Kim and Sean (her husband) are enjoying their temporary home near the Smoky Mountains. "We head into the national park to Cades Cove to explore and bird watch. But we're just as happy to stay home with our dog and cat and relax while Sean reads a book aloud. We read a lot of young adult fiction, fantasy and nature books together."
---
Rachel's Secret by BJ Hoff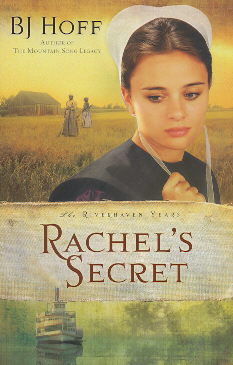 A candle glowing in the window and a quilt hanging on the line draw Asa, a freed slave, and injured riverboat captain Jeremiah Gant to the home of Rachael Brenneman. The young Amish widow feels baffled when the man of color and his companion, seriously wounded by gunshot, stand at her door seeking help. They seem to think she expects them. Against her better judgment she offers them shelter during a raging storm.
Their arrival stirs conflict within the Amish community where outsiders aren't welcome and a single woman shouldn't share her house with a man, even one hovering near death. The suspicious circumstances surrounding the Englischer raise concerns for Rachel and her nearby family, but Jeremiah needs a safe place to recuperate. The family learns the men serve as conductors on the Underground Railroad and they mistook her home for another. But who in the Amish community would break the law and endanger their way of life to help runaway slaves?
Asa departs to complete their mission leaving Jeremiah in the care of Rachel, her family and their trusted Englisch doctor. Rachel tries to squelch the attraction she feels for this outsider, but her heart rebels and forbidden romance develops as she learns more about this man who risks everything to keep others free. When trouble comes to the quiet community, Jeremiah learns it's not the first time these people suffered harassment. An unsettling brush with violence targeting her sister stirs the turmoil and unforgiveness lingering in Rachel's soul and reveals the secret she hides behind her Plain exterior.
As usual, Hoff excels at character development creating a cast that people a suspenseful complex storyline. As the characters determine what they will sacrifice in order to gain their hearts' desires, they experience believable struggles between the Amish way and Englisch way of living out their faith in matters of conscience.
Reviewed by Kim Peterson
---
The Convenient Groom by Denise Hunter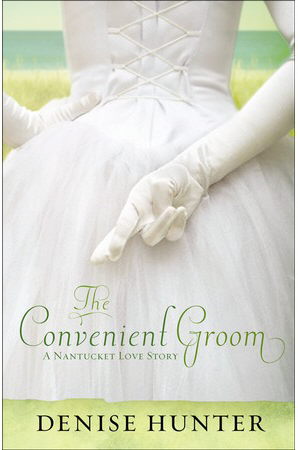 Life is all about straight neat lines and ordered predictability for Kate Lawrence, marriage guru and new author of Finding Mr-Right-for-You. Her celebrity status will hit new heights with her own beautifully orchestrated wedding with the media jostling for more of Dr Kate and her mystery groom.
Yet Kate's personal and professional life is poised to take a devastating turn when her fiance calls off the wedding hours before the nuptials.
With Kate falling apart before his eyes, carpenter Lucas Wright's unrequited love for Kate causes him to propose the ridiculous - that he step in as groom!
How can Mr Wright be anything but wrong?
Oh my! Denise Hunter knows how to write! A Convenient Groom is a love story overflowing with emotion, tenderness and attraction that captivated me from beginning to end. Kate's desperate need for control in her career and relationships stems from her perception of the faults in her parents' relationship. Lucas' deep and abiding love for Kate is palpable, with every action and word that at times I wanted to cry for him. I can't recommend this book highly enough - for its beautiful love story and the stunning allegory of God's unconditional and sacrificial love. A Convenient Groom is a must read.
Reviewed by Rel at Relzreviewz
---
Quills And Promises by Amber Miller
Quills and Promises is everything a historical romance should be! Amber Miller has once again created a believable look back to the time when the French and Indian War was raging, and colonists had to learn a better and more successful way to fight. Just before the battle really begins to wage hot, Major Madison Scott is introduced to his cousin's friend Elanna Hanssen. The two begin a series of letters, and throughout the war both Madison and Elanna come to care a great deal for each other.
But separation has its disadvantages, and Elanna must battle conflicting reports regarding her Major's role in the developing war. Continuously concerned for his safety and having to primarily depend on others for her news, Elanna finds herself facing some uncomfortable decisions. Encouraged by her mother, she turns to the Lord for wisdom, and as always, His answer is always right and timely! Both Elanna and Major Scott are characters that you learn to care a great deal about as you follow them through a very tumultuous time in our country.
I really appreciate Amber's accuracy as she portrays this fascinating time in our country's history! I think it is wise for all of us to look back and remember the trials our country faced in its early years. Although Elanna and Madison's story is fictional, I feel it is an accurate portrayal of those whose lives were affected by this war. Quills and Promises is the second book of the Delaware Dawning trilogy. Please, pick up your copy today!
Reviewed by Kim Ford at Window To My World
---