REVIEWERS CORNER
This month's focus - HISTORICAL

Featured Reviewer of the Month:
Deborah Khuanghlawn has been a voracious reader since she was three years old. Reading on average about 250 books a year, her bookshelves are overflowing and her TBR list never ending! She recently completed her BA in History and will be attending George Mason University for her Masters in History. She is planning on pursuing a career in museum studies or archival history in the Washington DC area. She also enjoys listening to The Beatles, eating Chinese food, playing with her pug and watching the best TV show ever, Lost. Deborah also loves to sprinkle movie trivia into everyday conversation due to her other passion in life of watching movies. She hopes to one day write a novel, but for now is content with reading everyone else's.
Here is a little testimony from Deb about her reviewing experience.
Working in a library has allowed me to introduce patrons to new authors and new titles. I was influenced by Camy Tang's blog and seeing how and what she posted. I started a review blog of my own and posted a few reviews from books I had borrowed from the library. Then by joining blog alliances such as CFBA and FIRST, I was able to begin reviewing books from the actual publishing houses. I also wrote to several authors asking them to be included on their influencer lists for their new books. I was thrilled to receive responses from many authors who passed along my name to the actual publisher. I post my reviews on my blog as well on Amazon.com, BN.com and Christianbook.com.
I feel that these are the three main places readers go to find out about books. The hardest part of reviewing is what to write when you don't like a book, especially when the author personally sent it to you. I find that I will always try to write something positive about the story in my review along with any minor criticisms I have. It's also difficult sometimes to not spoil the story for the reader. There are many perks about reviewing. Getting the latest book by your favorite author, months before publication date is always a first. Finding new authors is great. However my favorite part is that I am glad to be part of the movement that is helping Christian fiction become more popular with the mainstream world. To me, it's my way of sharing the light to the dark world.
---
The Begotten by Lisa Tawn Bergren (Berkley)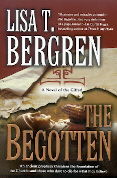 A lot of times we like to play the what if question. This can lead to long drawn out debates on what could have happen if something had taken place. Sometimes we worry that things would have been radically different if things had changed. Other times times we speculate on the possibilities that could have taken place if only such and such had taken place. That is the premise of The Begotten. Paul had written many letters to churches. What if there had been another letter sent to a special group of people called The Gifted?
Set during the time of the Inquisition, the secret of Paul's extra letter is trying to be kept hidden by the holy leaders. They are against females holding high authority and wish to keep any knowledge about it in secret. Years later however, individuals with secret powers find each other as they strive to help out those in need. They are Christians, strong in their faith, battling those who have turned to the dark side.
This book was a wonderful engrossing read. I love books about medieval times with knights and lords and ladies. The whole story was fascinating when you imagine a group such as the Gifted existing in today's world or even the world back then. Daria was a very strong female character especially for that time period. She was highly respected by the people around her. The men are eager to protect her yet they do not see her as just a weak female or try to woo her. They are quick to defend her and risk their lives for not only her but anyone in their company. I felt this book in a genre like The Da Vinci Code, although far superior. Myth and legend are always interesting especially when you can incorporate scriptural truth with it. In my opinion, I felt the characters were like a middle ages version of X-Men or Heroes. Group of people with special powers that feel unwanted by the rest of the world.
I highly recommend this book for those who are fans of this genre, and for anyone who enjoys a really good story. If you have a good imagination, this book definitely makes good use of it.
Reviewed by Deborah Khuanghlawn at Books, Movies and Chinese Food: Book Reviews, Movie Reviews and More
---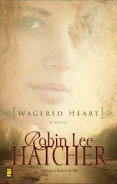 Wagered Heart by Robin Lee Hatcher
"I'll wager you five dollars I can get him to come to church within thirty days."
Pouting from being removed by her parents from the proper society she enjoyed in Philadelphia, Bethany Silverton is hardly enamoured with her family's final destination ~ Sweetwater, Montana. A town of wild cowboys, darkened saloons and, until the Silverton's arrival, bereft of a church or pastor.
Yet with one glance at rancher Hawk Chandler's enigmatic eyes and fine form, Bethany determines that her life is not over after all! When Hawk turns down her invitation to attend her father's new church, Bethany's competitive streak kicks in and an innocent wager with her friend Ingrid starts a chain of events that transform their lives forever.
Robin Lee Hatcher's latest offering is a romance reader's delight! The romantic tension between Hawk and Bethany ignites on their first meeting and doesn't let up until the final page. While the outcome is a forgone conclusion, Robin's talent with the written word and her unerring ability to create engaging characters, sets this story apart from most other historical romances. Hawk and Bethany's journey is fraught with misunderstandings, personal tragedy and the schemes of a treacherous man adding excitement to a tale that overflows with simmering attraction and blossoming love. Interspersed with humour and electrifying dialogue, Wagered Heart is a summer treat not to be missed.
Reviewed by Rel Mollet at Relz Reviews
---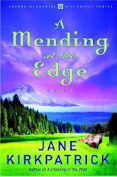 A Mending At The Edge by Jane Kirkpatrick
What a powerful story! This book encapsulates what is true and beautiful, painful and life-altering, real and meaningful about living in this world at any moment in time. Emma Wagner Geisy is a priceless treasure that Jane Kirkpatrick has unearthed from historical record and brought to life in a way that transcends the many years that separate her from this 21st century society we now inhabit. I am so very, very thankful that I had the opportunity to read this story, and that I am now able to share it with you!
Emma Geisy has left behind her life in Wilapa Bay, Washington and come to Aurora Mills, Oregon. Her pain and suffering have tendered her heart, but her willful spirit has yet to be tamed. However, from the very first pages of the book, God introduces people into Emma's life that begin to teach her a new way to live and within these changes to gather the deepest meaning from every moment of her life. Brita tells her on page 21, "You can't always get what you want in this life, but as any wise Zwerg knows, a hopeful soul learns to spin gold from the straw she's been given." By page 55, Emma is beginning to grasp this idea as she tells Louisa, "We take sad times and find the threads of wisdom there and weave it into the next generation. We're alchemists we women. We change things."
There are many changes ahead for Emma as this story unfolds – not all of them pleasant and many of them heartbreaking. However, she finds herself surrounded by those who are holding her up and making it possible for both she and her children to build a new and meaningful life from the heartache they left behind in Washington. Because of the strength Emma gains from her new community, she is able to learn the truth about herself and the human heart in general. She never gives up her true talents and desires, but she learns that as she pours them out in service to others that she strengthens herself and everyone within the circle of her life.
This book contains so much beauty and so much truth, it really is a struggle to express how full my heart is from this journey. God is so good and so faithful in every single circumstance of our lives!! I think Karl said it best on page 64, "God is there Emma, present at the end of the thread, pulling us toward Him. And if we ask ourselves in every situation how He is working in that experience or even our worry or disappointment, then we can feel that tug on the thread."
I hope you will purchase this entire trilogy and share it with those you love! This is an amazing set of books!
Reviewed by Kim Ford at WINDOW TO MY WORLD