"Are Spa Treatments Selfish, Or Godly?"
Something tells me Mother Theresa never had a spa treatment. But Queen Esther had a year's worth before she was presented to the king. So naturally, it begs the question, how hedonistic is a spa treatment for the Christian girl?
Maybe you've never pondered such a question as this, and wow, I'm so sorry for you. Truly, I think it's hard to think about the problems in the world, how they feel so insurmountable, and want to go and treat yourself to luxury. But maybe you're like me...
Read more


Fiction Etiquette with a Southern Twist Twisted Southern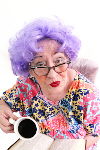 How appropriate that we are gatherin' just preliminary to the Thanksgivin' holiday. Ah know y'all are most thankful for the extensive admonishment you are receivin' in the Sacred Laws of Fiction Etiquette from very your own Ms. Flanders—as well you should be. And to fortify myself for your profuse expressions of...
Read more