Over twenty years ago, Crossway Books (and over a dozen other publishers) rejected Frank Peretti's This Present Darkness. Next, Peretti sent The Door in the Dragon's Throat, the first book in The Cooper Kids Adventure Series, to Crossway books and they accepted it. His first published work. In that acceptance letter, Crossway Books also asked if Peretti would send them This Present Darkness again. They wanted to take another look.
We all know what happened after that.
Frank Peretti became a publishing phenomenon. Today Peretti has over 12 million books in print, and his The Cooper Kids Adventure Series has sold over a million copies.
What I find inspiring is that the publisher was willing to take that first chance on a teen novel and that Peretti's teen books have gone through several printings and are still in print today.
What is so appealing about The Cooper Kids Adventure Series and The Veritas Project?
Both series have a male and female teen lead point of view characters. Both include smart, caring adults. Both deal with spiritual warfare and fighting the dark things of this world with God's truth. Both are suspenseful and action packed with mystery elements and life-threatening danger. Both appeal to boy and girl readers . . . and adults.
And good always triumphs over evil.
In his books, Peretti shows us how to face the things in life that haunt us. His characters urge us to rely on God despite our fears, to commit to him prayers of faith, and to trust that He is bigger than any demon of this world, whether they are monsters or personal afflictions.
My theory? Frank Peretti loves the Lord his God and has made Proverbs 16:3 a life verse. "Commit to the LORD whatever you do, and your plans will succeed" (NIV). Let us all learn from one whose plans have succeeded far more than he likely ever imagined. Let us all commit to the Lord whatever we do.
And if you have never read a Cooper Kids book or one of The Veritas Project novels, check them out. Here are a few.
The Door in the Dragon's Throat (The Cooper Kids Adventure Series, book 1) by Frank Peretti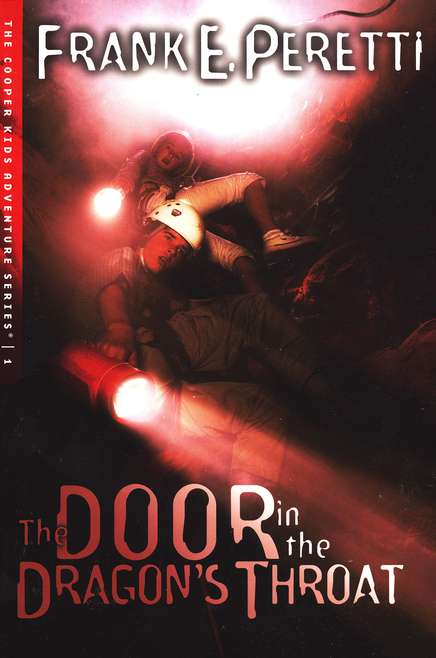 Jay and Lila Cooper travel to Nepur with their archaeologist father to uncover the truth behind an ancient legend. The people of Nepur fear a dark cavern called the Dragon's Throat. Deep under the earth the Coopers discover a bronze door that is said to bring death to any who tries to open it.
But the Coopers are not afraid of any legend. They study the door, try to open it, and go on a mysterious and dangerous hunt for a special key. Is there really a massive treasure behind the Door in the Dragon's Throat? Or could there be a reason no one has ever managed to open it?
Escape from the Island of Aquarius (The Cooper Kids Adventure Series, book 2) by Frank Peretti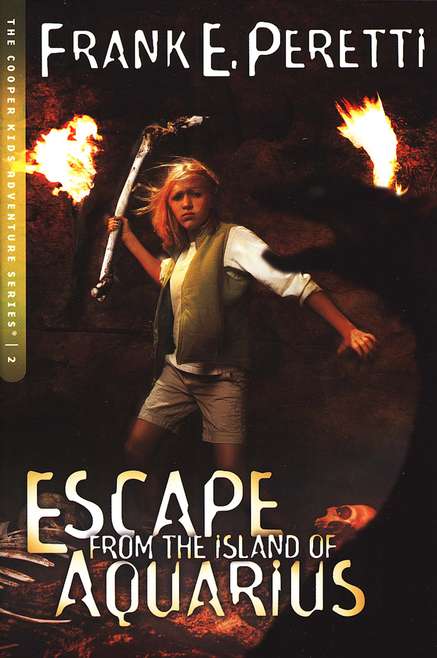 Jay and Lila Cooper join their father on a trip to the Island of Aquarius to rescue missing missionary, Adam MacKenzie. When they arrive, they discover a man claiming to be Adam has declared himself the leader of a bizarre colony. The man claims his people want to live in peace away from the modern world. But people keep dying. And when Jay, Lila, and their father start investigating, they become the next targets of the mysterious Moro-Kunda. And to make matters worse, the island is in big trouble. Earthquakes and erosion are tearing the island apart. Will the Coopers have enough time to find the real Adam MacKenzie before the island destroys itself?
Hangman's Curse (The Veritas Project, book 1) by Frank Peretti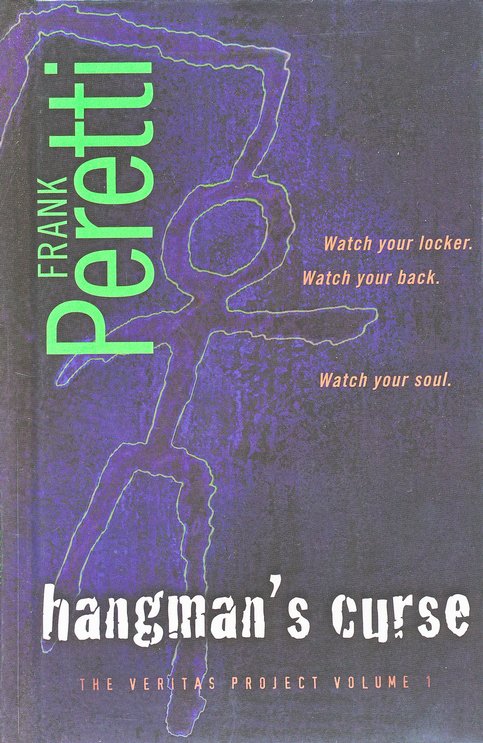 In Baker, Washington, three football stars fall into mysterious, hallucinating comas. Rumor is they are victims of Abel Frye, a dead student's ghost who curses those who would pick on the less popular. Enter the Springfields, an undercover family of four who are secretly commissioned by the president to investigate strange mysteries, crimes, and unusual occurrences. They are The Veritas Project.
Elijah and Elisha, teenage twins, go undercover at the school but what they find only leads to more questions. All the victims are school bullies. Abel Frye was a high school student who hung himself in the 1930s. A stick figure hangman was etched into each victim's locker. Is it really his ghost casting judgment or a secretive form of revenge? And what exactly goes on in the sectioned-off old basement of the high school?
Nightmare Academy (The Veritas Project, book 2) by Frank Peretti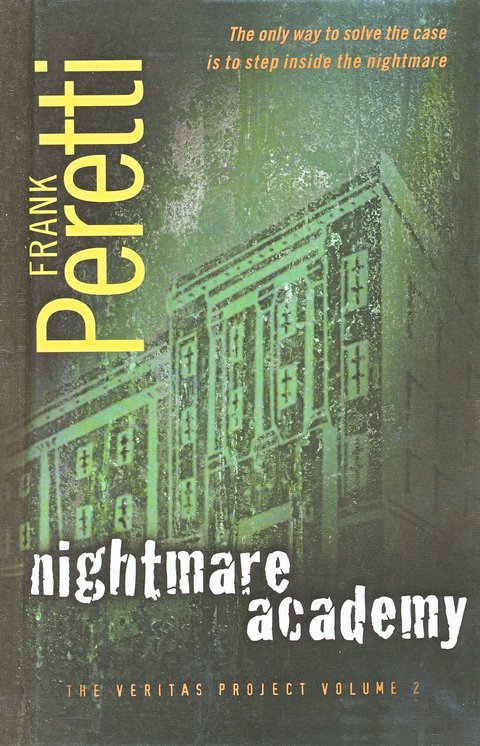 (Summary by Gretchen Hoffman) A fifteen-year-old boy shows up along a highway interstate. He doesn't know his name, how to dress himself, and has no memory of what's happened to him. He simply repeats the words "Nightmare Academy."
This is when teenage detectives Elijah and Elisha come into play. They go undercover as runaways where the boy and his friend were last seen before their disappearance. The twins are quickly headed on the right track, but things change when they, too, disappear. They investigate the goings-on but are unable to contact anyone from where they are. But once they find out what's really happening, will they have a chance to escape and save themselves?