Ashley's Advice On Living Right
So you know I have a Prada handbag, right? So maybe I'm not the best person to answer this question, but I'm going to take a stab at it. As Christians, I think we're all called to different places in life. Not all of us are meant to be in the mission fields of say…Calcutta. And I have to thank God for that, because I'd never make it. Which I'm afraid to even say for fear He'll want me to go!
Read more


Fiction Etiquette with a Southern Twist Twisted Southern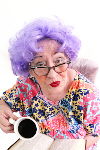 Good mornin', students. Once again we gather in this ancient, hallowed hall to ponder the Sacred Laws of Fiction Etiquette. Ah am so glad to see each and every one of you takin' your responsibilities in this regard seriously. But make no mistake. After last month's debacle, in which human body parts were, if not mentioned, at the very least vulgarly hinted at, Ah do not ever care to revisit that subject or any related to it in any way. Is that clear, or do Ah need to come back there and explain mah point in a way you are guaranteed to comprehend?
Read more