REVIEWERS CORNER
This month's focus - YA/Children's
Featured Reviewer of the Month:

Laura Hilton (www.laurahilton.com) lives in Arkansas with her husband, Steve, and their five children. Laura has more than a thousand book reviews published with Dancing Word, Faith Webbin, A Romance Review, and Armchair Reviews and has two fiction books, Shadows of the Past and Hot Chocolate published with Treble Heart Books.



---
Mixed Bags by Melody Carlson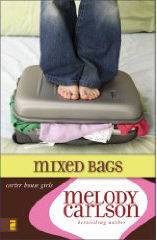 SYNOPSIS
When DJ's mother died, her father abandoned her, forcing her to live with her grandmother, an internationally famous 1960s fashion model. Now, Mrs. Carter has opened a boarding home for young ladies, and tomboy DJ is sure they will all be snobs.
DJ makes a few tenacious friendships, and one enemy, Taylor, when she and Taylor are both interested in the same guy. When DJ is asked out a date first, Taylor is devastated, and sets out to ruin DJ. As DJ struggles against her grandmother turning her into a fashion diva, and struggles to find her place in the house with all the girls living there, will she be forced to change to fit in? And if she does, what will the ramifications be?
My Take
MIXED BAGS is book one in the Carter House Girls Series. I was excited to hear about it, thinking at first that it was a chick lit. Judging by the cover, it easily could be. At first I was disappointed to find it was a young adult chick lit. Ms. Carlson has a habit of tackling extremely tough topics in her young adults, making them iffy reading for me. There were parts of this book I wasn't really fond of, but it wasn't has hard-core as some of Ms. Carlson's other books, and DJ handled herself well.
I think that MIXED BAGS would be a good addition to any young girl's library, and I know my twelve year old daughter is looking forward to reading this book. The faith message is well introduced, and while I couldn't relate to most of the girls, I did enjoy getting to know them. Don't miss MIXED BAGS. An excerpt from Stealing Bradford, the second book in the series is included at the end of the book.
Reviewed by Laura Hilton at lighthouse-academy
---
Romancing Hollywood Nobody by Lisa Samson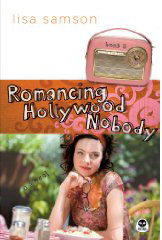 Lisa Samson's Hollywood Nobody series has to be one of my favorite set of books! The characters are so real and so much fun, that I feel like I've just enjoyed a visit with old friends. I love that! Romancing Hollywood Nobody is the third book in this fabulous series, and Scotty has blossomed into a beautiful young lady! Oh, she still has tons of individual style, but her new faith is realistically portrayed as she faces difficulty in her relationships with friends and family. This is truly my favorite in the series so far!
At this point in Scotty's journey, she is learning how precious family relationships are in her life. As a new film shoot begins, both Scotty and her grandmother Charley find the seeds of romance springing up in their lives! Samson captures the wonder and magic of new love at both the teen and adult levels, and throughout the story your heart will alternately plunge to great depths and soar to great heights! There are no guarantees in this game, and both Charley and Scotty have to do plenty of soul searching along the way!
Among the blossoming romances are a few thorny patches. Friendships develop unpleasant problems that force Scotty to learn an important lesson about judging others, while Charley has to learn about letting go. Life gets pretty painful in a few places for both of our leading ladies, and Scotty in particular learns how important it is to turn things over to God and leave them in His capable hands. This is my favorite "Nobody" book so far! Please, don't miss this series!! It is fabulous! I'm just sayin'!
Review by Kim Ford at Window to My World
---
It's Not About me by Michelle Sutton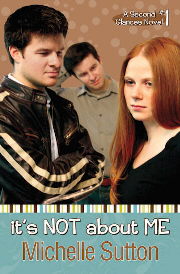 Annie Meyers is worried. Her gorgeous boyfriend of four years, Tony Lane, is pushing their commitment to wait for marriage. Her faith is weak and their self control is under increasing pressure. She is driven by her fear of disappointing him and losing his love.
When real fear plunges unexpectedly into her life through tragedy, Tony is unable to deal with the fallout and becomes increasingly erratic. His older brother, Dan, is more than willing to step in to provide comfort and support to the girl he has longed to be with since he left for college years before.
Bitter rivalry plunges the three friends and their families into heartache and confusion. Will they enable God to halt their downward plunge into an abyss of emotional grief and anger?
Michelle Sutton lives up to her tag line of "Edgy Inspirational Author", tackling issues of desire, premarital sex, alcoholism and volatile sibling relationships in her debut novel, It's Not About Me. Once hooked by Michelle's characters, the race is on to get to the last page and discover where Annie, Tony and Dan's choices lead them.
Michelle is not shy about detailing the main characters' feelings of desire and their battle against acting on their attraction, making this book more suited to those in their late teens and older. Annie's vacillation between Tony and Dan and their penchant for putting themselves in potentially compromising situations was frustrating but a testament to Michelle's dedication to write authentically. This may make some lovers of traditional Christian romance uncomfortable while generating a devoted audience in others who have been waiting for such "real life" fiction.
Adding significance to her tale, Michelle unashamedly deals with Annie's ignorance of her lack of faith, confronting the all to common belief that church attendance and "good" life choices are sufficient for a relationship with God. It's Not About Me sends a strong message about commitment, faithfulness and the true source of beauty and love. Michelle is sure to make a splash with her debut novel.
Reviewed by Rel Mollet at Relz Reviewz
---