REVIEWERS CORNER
Featured Reviewing of the Month - Romance
Lisa Lickel is a Wisconsin born and bred author who has traveled extensively around the United States. She is primarily a local historian, active in a number of historical societies. She lives in a one-hundred and fifty-year-old house, quilts and fills the bird feeders. Her writing includes radio theater for FreeQuincy Radio Theater, local newspaper features, magazine articles, local history and inspirational fiction.
The first advice I received when I wondered if I had what it took to write was—read! A lot. No problem! I grew up in a house full of books, the love of my librarian and social studies teacher parents' lives. Even now, as they continue to downsize their lifestyle, what goes first? Dishes and furniture. Last to go will surely be books. I've managed to keep my own collection of books to about 15 percent of living space.
I began reviewing mysteries for mysteryloverscorner.com shortly before my first mystery came out. Reviewing is not as easy as it looks, especially when you're taught as a child to say nothing if you can't say anything good. Then I signed up as a Thomas Nelson reviewer and slowly learned how review, and I began reading other genres than just mystery. I received a huge compliment when someone to whom I'd just been introduced said, "You're a reviewer, aren't you? I've read you."
Now, if only I can get them to read my books.
The fine art of persuasion comes down to sharing your passion. What's more passionate than a good romance? Romance and its partner, love, cross a lot of boundaries. When I finally got my husband to pick up my favorite Zane Grey Western, he read the first chapter, then looked at me in disgust. "This is a love story!" Well, duh. Isn't everything?
Here is a few reviews that might tempt you read the whole book:
---
Picket Fence Promises, by Kathryn Springer, c. 2008, Steeple Hill
I enjoyed Picket Fence Promises so much that in the middle of it, I got a haircut. You'll have to read it to get what I mean. Kathryn's wit and style are wonderful, and I chuckled in some places and cried toward the end. How much a book makes me tear up: That is one of my gauges for liking a story. Her message of faith was appealing, too— not blasting or preachy (except maybe in one place, but it worked for the scene). I'm willing to read this book as a stand-alone, but there's a homey feel of characters and scenes that obviously were introduced in an earlier book.
The set-up was intriguing: worldly people making babies, running away, adoption, finding birth-mom, lover showing up and doing all the dream-boat guy things, the heroine knowing she can't pick up with her former lover because of her brand-new faith. The story included the typical dream romance, even the dreamboat lover meeting the Lord and coming back to marry the girl—woman. I liked the mature characters.
A couple of things stood out. One, this book was exactly how I wanted to tell stories a couple of years back. At issue: flashbacks and length of real time between a character's asking a question—back story—then receiving the answer. This style does not bother me to read, or to write. It's stream of consciousness, and I think it's the right thing to do in a first-person tale.
The other is the sense of familiarity. Some of the characters had been obviously introduced in a former story line, so although they're mentioned frequently and with great familiarity, they were enigmas to me. The author would drop names, expecting me to know or remember who this person was. After a while, when I encountered them, I just kept reading instead of thinking Who is this? And because Bernice (the main character) knew the person, I was okay with him or her, too.
Reviewed by Lisa J. Lickel of Living Our Faith Outloud
---
Sweet Waters by Julie Carobini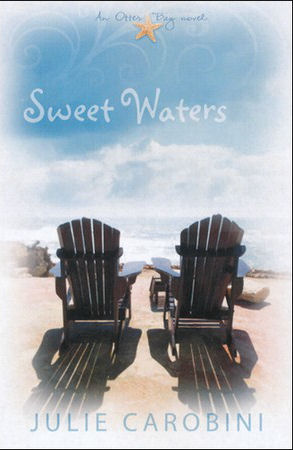 Tara Sweet, oldest daughter of Marilee and the late Robert Sweet, has gladly suffered with the reputation as the responsible (her sisters would say, bossy!) one of the family. When her fiancé dumps her and Marilee reveals her shock plans of a year long honeymoon with a much younger man, desperation fuels Tara's impulsive decision to move back to her childhood home in Otter Bay, California. Dragging her little sister Camille, along for the ride, Tara soon discovers that her precious childhood memories may not reflect the reality that was her family's previous life in Otter Bay.
Can Tara protect her sisters from the awful rumours and spiteful neighbours? And what of her sudden thoughts about church and God - does He really care?
Sweet Waters is as delightful as dipping your toes in lapping waves on a sunny day! Julie Carobini has excelled in creating an inviting beachside community without compromising the realities of human nature and the difficulties of small town living. Tara's painful rejection by her fiance and the revelation of devastating family secrets are tempered by gentle humour, feisty and honest sibling rivalry and make for a heart-warming and inspiring read. The interaction between Tara and her sisters is spot on, reminiscent of sisters everywhere and the burgeoning attraction Tara feels for firefighter Josh, a man burdened by his own frailties, totally captivating.
Sweet Waters is the perfect combination of playfulness, charm and enrichment. Julie Carobini has a winner on her hands and I am longing to return to Otter Bay for the next adventure!
Reviewed by Rel at Relzreviewz
---
The Hope of Refuge by Cindy Woodsmall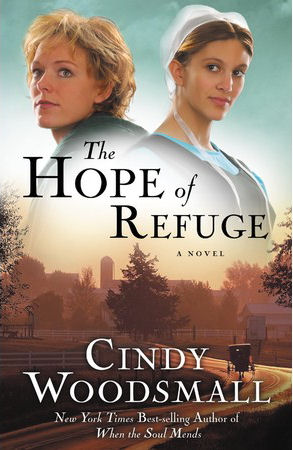 I was delighted when offered an opportunity to tour this new book from Cindy Woodsmall. She captured a dedicated fan in me with her first book, When the Heart Cries, and I couldn't wait for the next book in the Sisters of the Quilt series. When I learned she was starting another series, again, I could hardly wait for the first title to release.
And I was not disappointed. Cindy has a way of getting the very deepest emotions, reactions, and honest feelings out of her characters that pull the reader in like a fish on the end of the hook. I love the way she merges the Amish community with the Englischer world that surrounds them, yet keeps them separate, showing that though we live in this world, we can choose not to be part of it.
Cara seeks refuge in the Amish community but she is distrusted because of her outsider status. Cara struggles to find herself while protecting herself and daughter from a madman. Her presence affects all those whose lives she touches. Despite the apparent tranquility of the Amish life, tensions, secrets, fears and lost dreams bubble beneath the surface. And the combination urges the reader to keep turning the pages.
As she did with her first series, Cindy leaves a few loose ends, ramping up interest in the next book to come. And I trust Cindy as a writer enough to know that she will tie everything up before we leave Dry Lake, Pennsylvania.
Well done!
Reviewed by Peg Phifer at Sips 'N Cup Cafe
---