LISA HARRIS is a Christy Award finalist for Blood Ransom, Christy Award winner for Dangerous Passage, and the winner of the Best Inspirational Suspense Novel in 2011 for Blood Covenant and in 2015 for Vendetta from Romantic Times. She has over thirty novels and novella collections in print. She and her family have spent over twelve years working as missionaries in Africa. When she's not working she loves hanging out with her family, cooking different ethnic dishes, photography, and heading into the African bush on safari. For more information about her books and life in Africa visit her website at www.lisaharriswrites.com
Genre Happenings
Making It Personal
I remember very clearly the first writer's critique group I went to over a decade ago. And what I particularly remember is being terrified of what the others in the group would think about the chapter I'd spent so much time polishing to perfection. When it was my turn, I read the chapter out loud but quickly discovered that it was far from flawless. Instead, this next best-selling novel (at least in my own mind) was full of cardboard characters with little personality or back story—because to be honest, even I had no idea who they were beyond what was happening on the page.
So while I had carefully described what they looked like and what they were doing and ensured there was plenty of action, I'd never taken the time to dig deep into who they were. Which meant I had no idea what motivated them, or made them tick. And when readers try to get into a story containing characters made of cardboard, those stories always fall flat.
Think about your favorite TV shows for a moment? Who are your favorite characters? And no matter what genre you prefer, what makes you decide to watch a show season after season? I'm going to guess that while you might love the setting, or the action, or the unique concept behind the show, you keep watching because you care about the characters and what happens to them.
I personally enjoy watching crime shows, and one thing I've noticed is that the more personal the storyline is for the main characters, the more engaged I am in the story. In other words, if their lives are in danger and the stakes are high for them personally, then all of a sudden I'm at the edge of my seat, riveted on what's happening.
I believe the exact same thing is true when writing a story. The more personal the scenario is and the higher the stakes are to the main characters, then the more engrossed the reader will become. Which means it's no longer just a routine case to be cracked, or just another murder to be solved.
But how does that actually translate into writing a novel?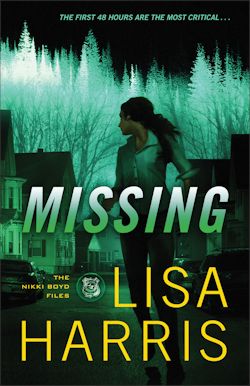 I believe it primarily has to do with a protagonist's characterization. In any genre, characters need to have both a compelling back story as well as strong motivation. In writing romantic suspense this means that both the action or suspense thread, as well as the romance, must be both balanced and personal. So how do you share this back story and motivation that will help bring the character to life without simply dumping information on your readers?
In Vendetta, my heroine Nikki Boyd has a very compelling back story and it was something I wanted to incorporate into the novel. Ten years ago, her younger sister vanished and was believed to have been taken by the Angel Abductor. Nikki has been searching for Sarah ever since, and the loss compelled Nikki to quit her job as a teacher in order to join the police academy, and eventually join a newly formed missing person task force. But I didn't want to simply start off the series having her tell someone Sarah's story that would include dumping a bunch of back story upfront.
So as I started writing my Nikki Boyd Files series, I began thinking through ideas of both setting the tone for the series and at the same time showing Nikki's personal motivation into why she does what she does. What if Nikki was forced to relive the past when she discovers that her sister Sarah's abductor was back? Now Nikki had motivation not just to do her job and find a young girl who had vanished, but she had motivation on a far more personal level. After ten years, she's still desperate to put closure to her family's loss, but she can only do that if she finds out the truth about what happened to her sister.
For me, the set up turned out to be the perfect catalyst to really show both Nikki's past as well as her vulnerability. It gave me a fast moving suspense plot while combining the past with the present, showed her motivation as well as who she'd become because of her loss, and on top of that her vulnerability gave me a chance to explore an unexpected romance as well.
Which was exactly what I was looking for. A complex story that would hopefully engage the reader and make them want to pick up the next book in the series to not only to see what case Nikki was working on, but to see how she deals with an unexpected romance, and the continued search for her sister.
Whether you're a reader or a writer, it's the stories that 'get personal' that keep us on the edges of our seat and begging for more!
---

---