Ashley Hodges Bazer is the author of the sci-fi series The Crown's Call. She lives in Colorado with her husband and three children. After earning her bachelor's degree in theatrical stage management from Arizona State University, she went on to work for Disneyland in that capacity. A love affair with books led her to work for several different bookstores. Currently a producer for Focus on the Family's daily radio program, she's learning to balance working, writing, and mothering duties. When she's not writing, she's crocheting, rocking out to the BeeGees, or belting Broadway showtunes. And she's a real duchess!
Author By Night
Time for a Story
"How do you find time to write?"
I hear that question repeatedly, and it's one I love to answer. I find the time because writing is my passion. That sounds trite, but it's the truth. Writing grounded my identity when I was in a maelstrom of chaos.
Go back in time with me about nine years. (Can you tell I'm a sci-fi writer?) I was thirty-two, single, and had a great job as a radio producer for Focus on the Family. During this time, I met the love of my life online, of all places. He's a Texan but lived in Virginia as a pastor. We had a lengthy correspondence, which eventually led to marriage. I left my career and family to move across country to become a pastor's wife. To top it all off, we found out we were going to be parents within that first year!
I'd written silly little stories to entertain friends in the past, but I never pegged myself as a writer. But when I couldn't find a job, I needed an outlet of some sort. I pulled out a couple of those stories and set to work. Writing was not only a safe escape, but it became therapy for me. I worked out many personal struggles through my characters and found myself again. Between the new landscapes of wifedom, motherhood, and church relations, it took me about two years to complete that first novel. But what an accomplishment!
Until I discovered I didn't know anything about writing.
I knew the basics I'd learned in school. But there's this whole universe of rules like point-of-view and show versus tell that I had no clue about. After foolishly submitting my first draft to a small press publisher … and getting rejected … I began to study the craft. I learned all these rules. (I've also learned it's perfectly acceptable to break them, as long as you're doing so intentionally.) This turned my writing around and set me on the path I needed to take. !-- Begin image -->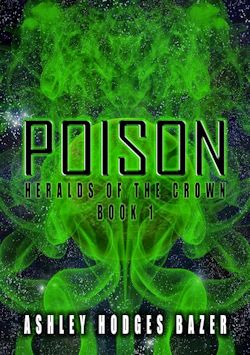 Along with this study came the focus of the message behind my books. I've always loved science-fiction, but the books available in the mainstream marketplace are filled with explicit content. Being a dedicated Christ follower, I wanted to write my kind of speculative stories centered on positive characteristics such as honor, chivalry, loyalty, and love. At the same time, I wanted to plant seeds in an audience that might not normally pick up a historical Christian fiction novel. Thus, my series, The Crown's Call, was born. Of course, it wasn't titled that at the time. It's gone through several iterations of "branding" to reach this final name.
My writing process is a little different from most others. I write a concept scene and flesh it out from there. I don't write chronologically, but it works for me. I had written four complete novels before I finally submitted one to a contest held by WestBow Press. Months passed before I learned my manuscript had taken the grand prize, earning publication. Asylum released in August 2012. The funny part? This book is now the second to the last in my series.
By this time, we had moved to a small town in Colorado and had three children. The church where my husband pastored started to feel uncomfortable. A friend I'd kept up with from Focus mentioned an open position doing exactly what I had done years ago. I applied and before I knew it, I became a working mom. We wanted to allow our children to finish out the school year with their friends, so I commuted two-and-a-half hours twice a week. I stayed with my mom on the weekdays and returned home on weekends. Leaving my family like that was the hardest thing I'd ever done.
I didn't do much fiction writing during that time, but I did do several marketing events such as book signings and sci-fi conventions. Most of my writing was done at work, crafting scripts and research preps for our hosts. I also got to meet some amazing authors. One of my favorites was Doug Gresham, C.S. Lewis's stepson. He even took a copy of Asylum with him and gave me a favorable review.
Once my family moved and we were together on a permanent basis again, the creativity began to flow. I participated in NaNoWriMo and wrote a crazy fairy tale mash-up titled Once Upon a Heist. Not much Christian content to it, but it's a family-friendly romp that's like Ocean's Eleven meets the Disney princesses. I'm currently shopping that to a variety of publishers.
I also signed with a small press to launch my rebranded series. Under the Crown's Call umbrella, Heralds of the Crown: Poison released in May 2014. Its sequel Heralds of the Crown: Fusion will come out in November 2014, followed by Heralds of the Crown: Reconciliation in May 2015. The other subseries are Rise of the Crown, Touch of the Crown, and Champions of the Crown.
So how do I find time to write?
I do it as often as I can. I take a notebook with me everywhere. I write for a few moments in the morning. I write in the afternoons, thanks to my super-supportive husband. I write after the kids go to bed. If I can't work on my books, I don't stress over it. I get to practice my writing skills at work. God has positioned me in such a way to provide these opportunities. I show my thanks by glorifying Him in my stories.
I love my full-time-radio-producing-mom-of-three-wife-and-published-author title. I see how God is using my busyness to do His work. This is my calling, and I gladly accept it, challenges and all.
---

---