Cara C. Putman, the award-winning author of 20 books, graduated high school at 16, college at 20, and completed her law degree at 27. FIRST for Women magazine called Shadowed by Grace "captivating" and a "novel with 'the works.'" It is also a finalist in the Christian Retailing BEST awards and HOLT Medallion. Cara is active at her church and a lecturer on business and employment law to graduate students at Purdue University's Krannert School of Management. Putman also practices law and is a second-generation homeschooling mom. Putman recently received her Master's in Business Administration at Krannert. She serves on the executive board of American Christian Fiction Writers (ACFW), an organization she has served in various roles since 2007. She lives with her husband and four children in Indiana. You can connect with her online at: Website: www.caraputman.com, Facebook: www.facebook.com/caraputman, Twitter: www.twitter.com/cara_putman, Pinterest: www.pinterest.com/caraputman, Goodreads: www.goodreads.com/CaraPutman
Author By Night
Willpower is the Key
Writing has been a part of my life for ten years, but the ways I write evolve with each season.
Right now, you can find me a couple nights a week, hiding out at the law firm writing a 1000 words in between a workout and picking up my oldest at gymnastics. Or I'll be writing late at night or in snatches during the day. When a gal's on deadline, she has to write. The key is finding the will and determination to squeeze the most from the moments I have.
When I started writing I had two young kids (5 and 2), was working 4 days a work at the law firm, and writing every night after the kids were in bed. Over the years, I've switched my job balance around. I teach two afternoons a week at Purdue. I work at the law firm on cases that interest me. I homeschool four kiddos. And I'm co-authoring my 21st book. Hard to believe all that has happened in ten years.
In May I finished my weekend MBA, and I'm finding that I don't quite know what to do with all of the extra time. My brain is almost recovered from two years of business related readings and homework, and I'm finding it's beginning to spin with what-ifs.
In these ten years of actively, consistently writing, I've watched and learned. My first book released in October 2007. At that time, books had a pretty short shelf-life – if they made it onto bookstore shelves, they only had a couple months to sell. One thing that has definitely changed: with ebooks, books can now have a longer shelf life.
For example, when Shadowed by Grace released in January 2014, we had the initial push for the book the release month. Then we had a second push when George Clooney's Monuments Men released in the middle of February. It was a crazy intense time of radio interviews and reviews. Then in May First Magazine for Women featured Shadowed by Grace in it's May 19, 2014, issue. That was a thrill! I think I freaked out the checkout gal at Wal-Mart as I danced toward her with the magazine. "This is my book!"
After that there was the occasional interview request, but things seemed to calm down as the book continued to sell.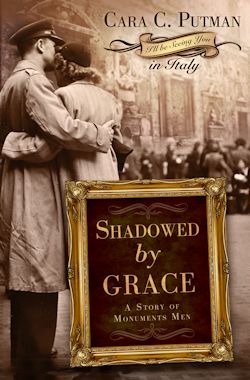 Now we're almost a year and a half past the initial release date and into the awards season. It's been a thrill to have Shadowed by Grace final in two big awards so far: Christian Retailing's BEST Award and the Holt Medallion – both in the historical category.
Yet at the same time, this writer at night, has co-written the WWII Christmas collection Where Treetops Glisten, done all of the marketing for that, written a proposal for a new series of books, finished her MBA, and is now co-writing another book. That's the reality of writing in today's world. Very few authors get to simply write books. Even as many acknowledge that the best marketing for a book is the book itself.
So how's a writer supposed to balance?
Ah, the million dollar question.
Writers want to write, yet we find ourselves writing articles like this one. The tension is constant in a world that has a blogosphere and internet that can never be filled with enough content.
Here are a few things that I do…some work really well, some are more works in process.
1) I have joined several group blogs. On these, I can reach a greater audience than I can on my own. The burden is also light – I post once or twice a month at Inspired by Life & Fiction, The Grove, and The Writer's Alley.
2) I blog on my blog three times a week – most weeks. This is a consistent evolution for me. I'm constantly refining what I do there. One thing is a constant: I talk about other authors' books. I love to talk about Christian fiction. Then I also talk about parenting, faith, homeschooling. Three times a week works fairly well. When I'm super organized, an hour a week is enough to create and preload the posts. It's not always this fast…but it's the target.
3) I set a writing goal and I hit it. Every day. Deadlines are to be met. They aren't a target, but a hard and fast time to turn in a book. That means I need to make sure I'm doing my part ahead of time: taking an honest look at the calendar, evaluating how many days I have available to write, and dividing the word count by days to hit my daily word count. Then I do it. If I miss a day or number, then it has to be made up somewhere else. When we treat writing as a job, then this is the minimum.
4) Build in time for editing. No matter how clean your writing is, you need time to review what you've written to make sure it sings. Build time into the process to do that. If you don't, it won't happen.
How have you seen writing evolve over time? Are there things you would add to my list?
---

---