Amanda Flower is the author of the Agatha Award-nominated Andi Boggs Series, a middle grade mystery series, and the Amish Quilt Shop Mystery Series, which she writes as Isabella Alan. Her upcoming release, Murder, Simply Stitched, published by New American Library/Penguin, will release in June 2014. In addition to being an author, Amanda is an academic librarian for a small college near Cleveland. Visit her at www.amandaflower.com.
Author By Night
The Backup Plan
I decided at age eleven that I was going to be an author and would tell anyone who asked—and some who didn't. One person I told was my dad. He said, "That's great. You're going to need a day job, too." You see, Dad was a practical electrical engineer. He was a planner, and he always thought it was important to have a backup plan for the worst-case scenario. This planning and foresight was a blessing to my family and still is nearly five years after his death.
So at eleven, when my dad said I would need a day job, I wasn't hurt or upset; I was determined. Because even though I am 80 percent right-brained artist, 20 percent of me is Daddy's girl planner.
In my middle school years, my dad and I sat at the dining room table and discussed my backup plan options. In the end, we settled on librarian. I loved the library, and as far as we could tell, librarians didn't have to take their work home at night, which would give me time to write until I hit the big time. Since that day, I have not deviated from the plan. In high school, I got my first job as a shelver at my local public library, and right after college, I went to library school and earned my master's degree in one year. Dad was proud. A plan well executed was something to celebrate in the Flower home.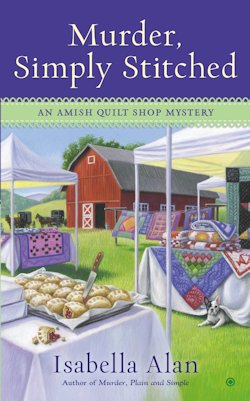 Now ten years after library school, I am the published mystery author that I always dreamed of being. My ninth published novel, Murder, Simply Stitched, which I wrote under the pen name Isabella Alan, will release on June 3, 2014. I'm contracted for six more novels for various publishers beyond that release. At the same time, I'm a full-time college librarian.
Now, my question is do I need an escape plan? Do I feel like I can retire from librarianship at a young age and dedicate my life to writing? Maybe. To make the decision, I take all the money and benefits out of the equation. It comes down to a basic question: Can I give up being a librarian? No, not yet, because somewhere along the way of the backup plan, I fell in love with my day job. And because of this struggle with leaving librarianship, I realize that my backup plan was never mine in the first place. This was God's plan all along. He let me think it was a temporary backup plan, and I'm sure He smiled when my teenaged self pronounced I would quit my day job when I sold my first book. He knew that I needed to be a librarian to better serve Him by serving college students and faculty who are just trying to survive the semester.
I spend my days and some of my nights helping college students navigate the information explosion. I teach them how to evaluate sources and what makes some research more credible than another. I also spend a large portion of my time learning new technology and making it work to better support the college's mission and the curriculum. These pursuits are fulfilling.
Every time I can make a student on the edge of tears smile, I think God winks. Every time a faculty member sends me a thank-you note, I think God chuckles.
I can't say that having two full-time careers is easy. There is a cost. I'm tired much of the time. I live on Starbucks coffee. I miss out on events with family and friends because I have to either work at the library or write on the weekends. Sometimes, I turn down book signings and speaking engagements because I am out of vacation time.
I put up with it because I know I'm following God's call to be an author and a librarian. He will tell me when it's time for a change and when the backup plan can retire. Until then, I will drink more coffee.
---

---