Harry Kraus is a board-certified surgeon, and the bestselling author of 19 books. Medical realism and gripping plotlines characterize his writing and he gets some of his best novel ideas with a scalpel in hand. He has divided his surgical professional life between East Africa and Virginia. He currently lives in Williamsburg, Virginia with his wife, Kris. Visit his http://www.harrykraus.com/
Author By Night
On Dealing with Compliments
I have two main occupations that set me up for accolades. I'm not sure what that says about me. Maybe I'm fragile and in need of the constant attaboys I get.
So how do I handle the praise from a patient after surgery or a reader after they've been touched by my words?
It takes a village. I don't really like that phrase, but it's appropriate for this discussion.
It takes a team to do surgery: setup, instrument prep, the support of a huge technology sector, assisting, sterilizing, anesthesia, someone to start the IV, the drugs, the recovery support team, and all of my mentors who play in my brain behind the scenes.
Gushing patient: "Oh, Dr. Kraus, you were wonderful."
Me: "I work with a great team. Couldn't have done it without them."
It's the same in writing. Be careful if you start believing your fans. If I have written one beautiful sentence, or strung together a coherent plot, I haven't done it alone. First (of course), there's the Creator. God is behind every idea, every sentence, every word. No, what I'm writing isn't the Bible, but writing is a gift. My first four novels were published long before I ever sought any of the great writing teachers or what they'd written about the craft. So my first response to an accolade is "There is so much grace in my life." (Grace is unmerited favor.)
Second, my books must get past my first reader, often my wife. She's best at proofreading but also has a knack for knowing what isn't going to get by my editors. "Too edgy." She'll caution. I resist and send it on. My editor says the same thing as my wife, which makes her I-told-you-so smile all the more annoying.
My agent, Natasha Kern, is another gift of grace. She's a big-picture gal who keeps her fingers on the pulse of market trends, and she knows just where to pitch my unique voice. She's full-in on a project long before it gets to an editor, and she's often made constructive criticism along the way to sharpen my words.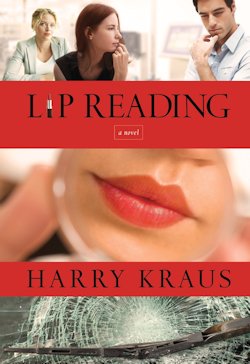 Then an editor gets a crack at me. (I say "me" rather than my novel because it often feels so personal when someone is red-marking my babies!) The manuscript goes through both a macro edit or content edit and the micro or line edit. For years, my content editor has been Dave Lambert. He works independently as a consultant, and my publishers have agreed to hire him for me because we work so well together. Dave doesn't just have a PhD in the field. Dr. Lambert has a PhD in editing fiction! And he always pushes me to the next level. I've sat around a table with other author friends on many occasions as we all laugh and moan together about our "Lambert letters," the twenty-page, single-spaced documents in which Dave helps to rebuild our novels, pushing out more suspense, rounder characters, sharper dialogue, and more colorful scenes. Yes, I have a love-hate relationship with Dave. He's kind of like the ab-ripper (the obnoxious abdominal workout on P-90X) of the fiction world. He kind of makes me feel like I want to run and puke, but if you do what he says, the end will be a better book for his fingerprints.
The line editor is another set of eyes to be sure I haven't used the same word twice in a paragraph, scolds me for my use of passive voice, tells me when I've been too thin on attributions in dialogue and on and on . . . all the little stuff that makes the readers' experience seamless instead of a jerky ride where they aren't sure who is saying or doing what.
And, of course, before I ever set pen to paper or fingers to keyboard, I've consulted a bunch of experts: police officers, lawyers, doctors with expertise in areas other than mine (surgery), etc. For my latest novel, Lip Reading, my protagonist spends a lot of time using lipsticks to cover up a small scar that, in her mind, spoils her appearance. So I was constantly searching Google for "high end lipsticks" and a bit embarrassed when cosmetic ads kept popping up when I did other searches. Why are these people targeting me? Don't they know I'm a manly man?
Inside the publishing house are too many contributors to name: layout people, proofreaders, artists, designers, photographers, and other writers who specialize in tantalizing short summaries for back-cover copy (most novelists are better at 100,000 words than fifty!).
And I can't forget the team who puts together the physical book: printers, binders, and packagers. And for the e-formats, another set of experts do the proper formatting. And, yes, it's different for Kindle and Nook.
Add to that salespeople, marketing experts, and ad-copy writers. Your publisher may do some of the marketing themselves, or you might be blessed (as I am) to have a marketing team like Wynn-Wynn as an "outside" consultant. Jeane Wynn sets up exposure opportunities, gets my name out there in the blogosphere, and is irritatingly perky throughout the process.
The team includes store owners, people who stock the shelves, track inventory, store staff who get excited and recommend my book to hungry readers.
I'm sure I've missed about a million others who impact my writing. My bad. I could probably use a few of them now to help me remember who else to thank.
All of these and more are the avenues of grace that get the author's words to the reader. We get the credit, but the truth is many others behind the scenes deserve a nod. The next time an author gets too puffy about his or her own greatness, get ready for a spectacular fail.
Just my two cents.
Harry
---

---