Daniel Blackaby is a fourth generation author and grandson of Experiencing God author Henry Blackaby. He's been writing all his life. After several years of literary abominations, his first book published during his final year of college, when he was twenty-three. He has since published several more in both fantasy fiction and nonfiction, including The Lost City Chronicles trilogy, When Worlds Collide: Stepping Up and Standing Out in an Anti-God Culture, and 7 Steps to Knowing, Doing, and Experiencing the Will of God for Teens. He is married to his beautiful soul mate and most honest critic, Sarah, and is the father of twin boys, Logan and Emerson. He knows more useless Star Wars facts than any self-respecting man should and has a crazy passion for the creative arts as a means of enriching and redeeming culture. Find Daniel at www.danielblackaby.com or on Facebook at www.facebook.com/danielblackabyauthor.
Author By Night
How Did This Happen?
A curious thing has happened to me over the last few years. Somehow, without realizing it, I've become an author. I took English in college (a choice made easy by the abominable report card grades for any other subject), and as I spent much time reading classic novels, the idea stirred in me that I wouldn't mind becoming an author myself. After all, it seems that writing my own novels would be far more fun than writing tedious reviews for dead people's books. I resolved to become an author. I then patiently waited (and am still waiting) to "become an author." In the meantime, I wrote and published five books. Confused? So was I! So let me explain.
Five years ago I ventured into the scary, uncharted territory of fiction writing. It was 2 a.m. Unable to sleep, I grabbed my laptop, opened a blank Microsoft Word document, and typed the ominous words: "He was dead." Little did I know that five years and over 300,000 words later, I would hold a published fantasy trilogy with my name on the cover. Before you start thinking my experience sounds like the synopsis of a cheap, made-for-television movie for the Hallmark channel, let me back up and share a bit of the context.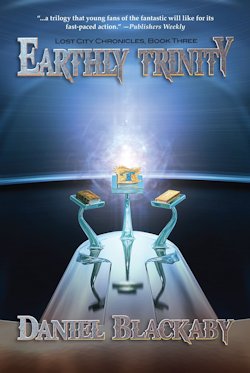 You see, I was now an author by "title," but my life didn't seem to reflect the lives of famous "real" authors I had learned about in college. Like most aspiring authors, I dreamed of strolling through nature a la Henry David Thoreau while waiting for inspiration to descend like a dove. The Romanized ideal sounds marvelous—or until we discover the thick cobwebs forming in our bank accounts. If there is an idealized existence as a warrior poet, it's safe to say that Life didn't get the memo. From the time I wrote those first words of my novel until the time I held the fruits of my labor five years later, life was anything but serene and romantic. I lived in three different states (South Carolina, California, Georgia). I finished college, started and finished a Master's degree, and begin work on a PhD. I married my soul mate and together we were expecting twin boys. I trained for and ran my first (and almost certainly last) marathon. I worked a half dozen different part-time jobs, and I wrote and published two nonfiction books on the side. For me, "free time" meant those brief interludes when I waited for the fresh coffee to brew before I was swept away to the next activity or task. In other words, Life happened, and I've been hanging on by my fingernails ever since!
Forget the peaceful months alone enjoying inspirational nature walks with nothing but a pen, paper, and the great outdoors. I would be grateful for just one uninterrupted evening! I've done the majority of my writing well after the clock struck midnight. On more than one occasion I awoke the next morning only to discover that in my delirium the previous night I had inadvertently killed off a main character (giving new meaning to the words the graveyard shift)! Many times my wife and I would eat breakfast together before she left for her early work shift, then I finally crawled to bed. My formula is simple: I write whenever I can and wherever I can. I've been known to bring my laptop into the bathtub with me and even wrote a few chapters while on my honeymoon. My professional author "work" attire consists almost exclusively of a tattered Teenage Mutant Ninja Turtle T-shirt and a pair of How the Grinch Stole Christmas pajamas pants. Needless to say, if the Society of Stereotypical Authors were looking for a poster boy, I would not make the short list (or the long list, for that matter).
Each year countless seminars are offered across the country and new books are released every month with stimulating titles like How to Write Your Opus in 10 Days or From Zero to Hawthorne: Writing's Secret Formula. In my opinion, there is just one golden rule of writing: Put words on paper. Wherever, whenever, and however you can. Even in the bathtub. Writing is not rocket science. Writing is words on a page. Inspiration is a myth that procrastinators who aren't writing like to talk about. Real writers are too busy putting words on pages to think about such silly myths. They know that the moment they stop moving word count forward, their monstrous manuscripts will grow fangs and devour them whole, morphing into yet another "story I'll finish one day."
So when someone says to me, "Hey, you're an author, right? I've thought about writing a book some day. How should I get started?" I simply respond, "The same way that every author in history has: start filling blank pages one word at a time." Before long those little words you write in the dead of night or in the most bizarre places may one day turn into a finished book or trilogy. By all means, let's keep dreaming of becoming an author. But in the meantime, why don't you brew some fresh coffee, power up your laptop, and get some writing done. Trust me. You'll be happy you did!
If you're curious to see what crazy stories this Ninja Turtle–shirt-wearing author ended up with, I'd love for you to try out my Lost City Chronicles trilogy (http://www.amazon.com/Daniel-Blackaby/e/B00533WDFE). My mother gave them each glowing 5-star reviews on Amazon, so they've got to be good, right? The books tell a story of friendship set in a fantastical world full of adventure, danger, and betrayal. Beyond that, they tackle questions about faith and reason, good and evil, and the supernatural and spiritual reality of the world. I'd also love to connect with you on Facebook. You can find me at www.facebook.com/danielblackabyauthor.
---

---