Mary Manners is an award-winning romance writer who lives in the beautiful foothills of East Tennessee with her husband Tim and daughter Danni, and the cherished cats they've rescued from local animal shelters...Lucky and Gus. She loves flavored coffee and Smoky Mountain sunsets. Mary was named Author of the Year by Book and Trailer Showcase. She writes inspirational romances of all lengths, from short stories to novels—something for everyone. Learn more about Mary Manners at her website: www.MaryMannersRomance.com.
Author By Night
Hand in Hand
Often during the course of conversation, the inevitable question arises, "How long have you been writing?" I'm quick to respond that I was born this way . . . with a pencil in my hand.
I cannot remember a time when I didn't write. In fact, my earliest memory is of sitting on the floor beside the washing machine in my family's laundry room and scribbling (I didn't yet know how to read or form words, but I could certainly scratch across the paper), because I had a story in my head that just had to come out and be shared.
Since that day, I have never stopped writing. Writing is as essential to life as breathing. I am convinced that, prior to the use of my trusty laptop, I killed a forest of trees on my quest to record all of the stories woven through my brain and my heart.
I wrote my first full-length novel in the sixth grade. Thanks to my supportive parents and a few wonderful teachers who encouraged me along the way, my fledgling confidence flourished, and I figured I'd be published by the time I turned thirteen (after all, S.E. Hinton had managed a similar feat with her acclaimed and edgy young adult novel, The Outsiders). God had other plans, though, and many years (and countless edits) would pass before that first novel finally became published as Wisdom Tree.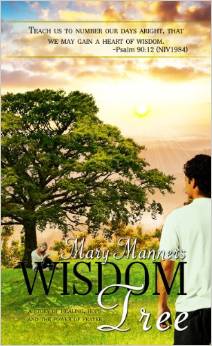 My life journey has led me to many destinations, including a three-decade career in education. I spent several years working with special needs children before settling into teaching middle school math (go figure . . . the writer teaching algebra and loving it) and am currently seated as an intermediate school principal with six hundred adorable and rambunctious children in my care. Add to that a loyal husband and beautiful daughter, and to say I juggle daily responsibilities is a gross understatement. But what's life without a boxcar's worth of adventure tossed into the mix?
So, when do I manage to write? I pen my stories in the morning, when the rest of the world is sleeping, and at night, when the rest of the world is sleeping. My official work day begins at six thirty, so I wake at three to write. My day job ends at five (on a good day), and I'm happy to say that my husband loves football, so following a daily walk together and then dinner, I write while he yells at the TV. We have fun while we make it work, and I'm blessed by his support.
Along the way, day by day, I keep writing and breathing . . . and writing some more. I never leave home without a pad of paper and a pencil. I am a walking, juggling journal. In 2010 my determination paid off when I won the Finally a Bride contest and Nicola Martinez, Editor in Chief of Pelican Book Group requested my manuscript (squee). Soon after, I got The Call from Nicola (it was actually an email I received at the end of a school day) and my coworkers happy-danced right along with me.
Thirty-three books later, the journey continues. Along with the writing has come on-the-job training in editing (love it) and marketing (not so much). I have decided that sleep is overrated and coffee should be certified as a food group.
All joking aside, God has been good to me, and I pray that my writing glorifies Him. Each of my stories is based on a Bible verse, and I strive to share the message of hope and grace in all I write. Does that mean my characters never struggle? No. Does it mean they are human? Yes (um, really . . . they are). Does it mean through God all things are possible? Yes, I truly believe it is so.
So I write and I will continue writing as long as I am breathing. After all, the two go hand in hand.
---

---