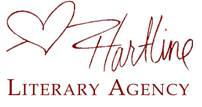 Introduction to Hartline Literary Agency
"The Agency with a Heart"

I'm Joyce Hart, CEO of Hartline Literary Agency, and I'm delighted to provide you with up-to-date news from the publishing industry.




Our five agents serve over 150 clients. We represent many best-selling, award-winning CBA authors. This year, two of our authors are Christy Award finalists, and many of our authors have earned awards and recognition in other contests this year. Although we specialize in CBA, we sell select titles to ABA publishers.




This year, one of our authors won a prestigious RWA Readers Choice Award for her ABA book. Our agents have been instrumental in helping many authors publish their first books. We also represent many esteemed published authors. Currently we are looking for bright new talent and established, veteran authors. Our agents are knowledgeable, experienced, and respected in the industry. We also consider ourselves "The Agency with a Heart" because we strive to partner with each author in pursuing appropriate and realistic career goals.




We teach workshops and meet with authors at many writers' conferences each year. Conferences this year include Writing from the Soul, Colorado Springs, CO; Florida Christian Writers Conference; Northwest Christian Writers Conference; Colorado Christian Writers Conference, Estes Park, CO; Southeastern Writers Conference; Susquehanna Writers Workshop; Sandy Cove Christian Communicators' Experience; Greater Philadelphia Christian Writers Conference, Philadelphia, PA; and ACFW.




Let me introduce our agents to you:




JOYCE HART




Founder Joyce Hart began her career in 1978, selling Christian books at Whitaker House Publishing. She was a secretary to the vice president and the editorial department. She worked for Whitaker for eleven years, the last three of which she was the Vice President of Marketing. Her specialty was Special Markets, selling to chain bookstores, ministries, book clubs, catalogs, and rackjobbers.




She founded Hartline Marketing in 1990 and represented several small companies, including New Leaf Press and Victory House Publishing, handling special markets for both for many years. Hartline Literary Agency, a division of Hartline Marketing, was founded in 1992. The first book she sold was A Sweetness to the Soul by Jane Kirkpatrick, who is still a valued client. The first publisher Joyce contacted, Multnomah, bought the manuscript. At that time, the editor was Rod Morris, who is now with Harvest House. Joyce has cultivated strong relationships with every major CBA publishing house and has outstanding long-term relationships with key editors in these sought-after houses.




TAMELA HANCOCK MURRAY




Tamela has been with Hartline since 2001 and has placed authors' books in both CBA and ABA. Her client roster includes award-winning, best-selling authors as well as new authors. A Virginia native, she is an accomplished writer who has authored many inspirational romance novels and novellas and several




nonfiction Bible trivia books for children and adults. She is honored to write for the inspirational market and enjoys encouraging new and established authors. She earned her degree in Journalism (with honors) from Lynchburg College in Lynchburg, Virginia. Tamela is based at Hartline Literary Agency's office in Manassas, Virginia. Learn more about Tamela's work as an agent and author at tamela [ at] hartlineliterary.com, or write her at 10383 Godwin Drive, Manassas, VA 20110.




TERRY BURNS




Terry is a native Texan living in Amarillo, Texas. With the agency for the last two years, he has a substantial list of clients, a growing list of credits, and a reputation for presenting to conferences all over the country. Before coming to Hartline, he represented businesses for more than twenty-five years, making deals and doing promotion. As a writer, he has six novels in print, work in a dozen short story collections, four nonfiction books, and numerous articles and short stories. A graduate of West Texas State, he did post-grad work at Southern Methodist University. Terry plans to continue writing inspirational fiction as well as working with Hartline. Terry can be reached at terry [at] hartlineliterary.com, 1414 Sunrise Dr #51, Amarillo, TX 79104, or 806-584-6464.




DIANA FLEGAL




Diana currently lives in Pittsburgh, Pennsylvania, where she works as Editorial Assistant to Joyce Hart. She holds a Bible college major in Missions and Anthropology. Diana has been a medical missionary to Haiti, a women's speaker, and Bible study leader, creating her own women's study material. One of her life's highlights has been teaching apologetics to high school students as preparatory for college. Avid reader and gifted editor, Diana's focus is nonfiction. She has a passion for getting great writers published. Contact her at diana [at] hartlineliterary.com, 123 Queenston Drive, Pittsburgh, PA 15235, or 412-829-2483.




ERIK W SCHMIDGAL




For more than thirty years, Erik W. Schmidgal has been intimately involved with many aspects of Christian publishing. For the past twenty-five years, his focus has been in Special Markets, interacting with large and small ministries, rack programs, and certain general market accounts for Baker Publishing Group (including Baker Books, Bethany Publishers, Chosen, and Fleming Revell). Starting his career at Concordia Publishing House in the mid-70s as a bookstore representative, Erik still retains a love for children's materials. During the 1980s and 1990s, he started Manna Marketing, developing sales for start-up companies, including Creation House (now Strang), Integrity Music, Vine Books, and Youth with a Mission. He has been graced with a strong "book sense" and an understanding of the best markets for them. Erik education includes a general arts and sciences background at Penn State University and received advanced study through Logos Bible Training Center. Erik can be reached at erikws [at] hartlineliterary.com, or Thistle Dew Farm, 266 Pine Drive, New Alexandria, PA 15670. You can call him at 724-668-2311, or send a fax to 724-668-2385.




Now you've been introducted to Hartline Literary agents. This column will be spotlighing a different agent each month. They will share their valuable perspectives on what is going on in the world of fiction. Make sure to check it out!