REVIEWERS CORNER
Featured Reviewer of the Month:

I've only been blogging about books for a little over 18 months. My mom was my book buddy, and when she died I had no one to really talk books with. When my husband started a blog for our church, I thought "I can do that." So "A Peek At My Bookshelf" was born. In the midst of my myriad piles of reading material, I'm a pastor's wife, a full time mom to two teens at home, a home schooler, and a women's ministry leader. We have a total of six children all together; our second oldest daughter just got married this month! My reading material covers all genres of Christian fiction and non-fiction, with a sprinkling of general market books in the mix. Because of my unusual success at blogging about books, both of my teens have created their own book review blogs--they just rarely post due to homework and chores:-) Lots of people ask me why I review books. I tell them three reasons: 1) I love Jesus and want to honor Him with my life, 2) I love books and authors immensely, and 3) I love readers and sharing with others. I'm always on the lookout for a debut author, a little known title, a book others won't seem to touch, and that title that's a little left of center. And I'm NEVER without something to read!
---
Stepping Into Sunlight by Sharon Hinck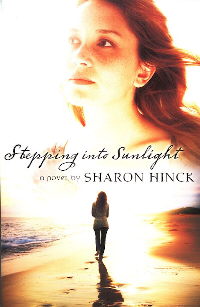 I'm a HUGE fan of Sharon Hinck's writing! Her books are so witty and her characters march right off the pages and into your home. But this one...oh, this one book is exquisite. This is the jewel in her author's crown.
"Stepping Into Sunlight" chronicles the journey of Penny Sullivan. She's just relocated her family to a new home across the country from where she grew up. She's just seen her husband deploy as a Navy Chaplain, away at sea for weeks, even months, during a time of war.
She's helping her seven year old son, Bryan, adjust to his dad's absence and a new school. She's adjusting to life as a Navy wife, with long periods of loneliness and singleness.
But Penny's also been through something we only imagine in our worst nightmares...she's been the victim of a horrific crime. And the scenes from that crime haunt her every waking moment. Raised to live up to a standard of perfection by her mother, saddled with a fear of "losing it" and coping with a boatload of stress heavy enough to sink the Titanic...Penny insists on going it alone. No help. No counseling. No therapy. Until she shatters. And then, finally...Penny really does begin "Stepping Into Sunlight".
There were moments my heart ached for her. Moments tears welled up and I had to lay the book down and just weep. Moments of laughter, and of surprise. I was so stunned by the sheer beauty of this story, I savored every page. This was a journey I could not rush. And it is such a timely story for me at this season of my life. Sharon has captured every woman's heart in each of her novels...but this time, she has truly revealed it as a treasure created by God for a purpose. A divine purpose that He will supply every need we have in order for us to meet that purpose.
I cannot encourage you enough to buy. this. book. If it is the ONLY book you buy this Fall, it will be such a wise investment. Give it as a gift to a woman you love who is struggling with healing. With overcoming trauma.
Life is filled with pain. Let Penny and Sharon show you the way out of that dark valley and get you "Stepping Into Sunlight" once again. I'm giving this one the golden bookmark, and voting it best Women's Fiction of 2008!
Read this...and you'll know why I love Sharon Hinck so much.
Reviewed by Deena Peterson at A Peek At My Bookshelf Book Reviews
---
The Shape of Mercy by Susan Meissner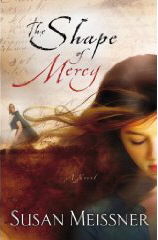 Lauren is a rich girl who has chosen to be on her own, away from her wealthy family. She is a college student trying to fend for herself. She manages to get a job transcribing the diary of an ancestor of a former librarian. Lauren begins to get lost in the world of Mercy, a young woman living during the Salem Witch Trials. She finds herself being drawn into a tale that she knows will end tragically but she finds she cannot stop herself from reading. As she continues with her work, Lauren begins to see how a girl who lived centuries ago shares the same feelings and angst that she herself feels today.
Wow when I finished this book, I nearly broke down and cried. This book was so moving and heartbreaking. Just like Lauren, it was difficult for me to keep reading Mercy's entries in the diary. Yet I too kept being drawn towards it. Even though I am one who tends to want to know the ending first, this time I didn't want the story to continue. I wanted Mercy to be able to enjoy her life as long as she could. I didn't want to read about the wrongful accusations and the hardships she was forced to suffer. And just like Lauren, I was not eager to read about her death. The Salem Witch Trials was a time in our nation's history that is very dark and one period that would like to be forgotten. I think what made the event more tragic was that it was supposedly all done in the name of Christianity. This unfortunately is NOT what Christ intended for his followers to act like.
I understand their intentions but I really felt that the Puritans of that time didn't really understand God's love and grace. Lauren's story is equally as enthralling. I think the reason why I enjoyed it as much as I did was because she's around the same age as I am. I personally didn't see anything wrong with her way of thinking as opposed to her roommate, who actually got on my nerves at times. But I liked her character very much, and her job of transcribing the diary sounds like a dream job for a history major like myself. Abigail too held an interesting story, and it was hers that made me want to cry. A lifetime of regret due to being afraid to love. Susan Meissner has created another masterpiece. Every one of her books has made my top 10 list of the year and this one definitely will be added to it. VERY HIGHLY recommended.
Review by Deborah at Books, Movies and Chinese Food: Book Reviews, Movie Reviews and More
---
The Moon and the Mango Tree by Pamela Binnings Ewen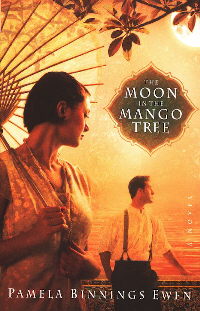 Barbara is a talented young woman, with a promising grand opera career ahead of her. Faced with a choice between singing and following her new husband, Harvey, to Siam (now Thailand), she chooses love and adventure. Barbara's faith is challenged by the rigid dogmatic faith preached in the remote Mission at Nan. Whilst Harvey thrives in his work as a medical doctor, Barbara begins to resent the loss of her own dreams and passions. It is only after a time of pursuing worldly pleasures and a conversation with an old acquaintance that Barbara comes to understand that faith is not meant to be joyless and that her family are more important than selfish pursuits.
Pamela Binnings Ewen pens the gentle, yet enthralling true story of her grandparent's life with beautiful prose. I was captivated by the tale, unable to put the book down until it was finished! At the heart of this tale is Barbara's search for a meaningful life. I longed for her to have someone to come alongside and encourage her. My heart ached as her faith was crushed by people who cared more about their own idea of religion than the people they were supposed to be ministering to. Pamela details Barbara's loss of faith and her search for something that will validate her life. Admirably, she does not shy away from writing of the separation between Harvey & Barbara, or that is was Barbara's choice that led to it. The Moon and the Mango Tree reminded me that despite the circumstances in our lives and the wilderness we may find ourselves in that God calls gently for us to choose Him. It is only in a genuine, joyful and vibrant faith that we truly find meaning, even when the course of our lives may vary greatly from our initial dreams and plans.
Reviewed by Tracy at Relz Reviewz
---